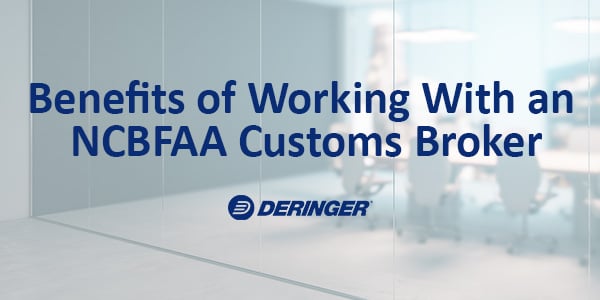 In today's shipping climate, imports are nothing short of chaotic, with disruptions around every corner. Importers and exporters need a dependable ally to spot problems ahead of time and promptly get goods where they need to go.
A reliable partner can be found in a Customs Broker aligned with the National Customs Brokers & Forwarders Association of America (NCBFAA). These professionals can provide invaluable assistance to simplify importing and exporting, even in a chaotic world.
Working with an NCBFAA Customs Broker can save you money, improve efficiency, and give you peace of mind. Know the benefits of working with NCBFFA Customs Brokers and what makes them different.
What are NCBFFA Customs Brokers?
The NCBFAA is a non-profit brokers' association dedicated to guaranteeing fair and efficient trade practices. The NCBFAA has worked with the Federal government for over 100 years to ensure every shipment complies with the laws and regulations of international trade.
A Customs Broker clears shipments of imported or exported goods by ensuring they meet all Customs laws and regulations. These entities ensure all taxes, fees, documentation, and other needs are fulfilled—a huge responsibility with severe repercussions if done incorrectly.
Hiring an NCBAA Customs Broker to oversee your imports and exports can help you avoid common shipping problems. Professionals from this brokers' association have NCBFAA certification in the import and export process and a deep understanding of all international trade regulations and laws.
A critical component of the NCBFAA is its National Educational Institute, which is where Customs Brokers can earn advanced certifications in international trade. The educational arm of the NCBFAA runs programs like the Certified Customs Specialist (CCS), Certified Export Specialist (CES), and Master Export Specialist program.
The NCBFAA plans to add other educational programs, such as a Certified Drawback Specialist program, in the future. The NEI also organizes training and educational webinars for its members.
However, the trade organization is involved in more than education. NCBFAA represents over 1,200 member companies in international trade, from freight forwarders to Customs Brokers, ocean transportation intermediaries (OTIs) to NVOCCs and air cargo agents. Its efforts include lobbying on behalf of its more than 100,000 individual members. NCBFAA works closely with Customs to ensure laws and regulations are in the best interest of the entire international trade and U.S. security.
Congress is constantly passing new laws. NCBFAA helps agencies anticipate changes to the law by watching the Federal Register. The organization alerts its members to critical changes in international trade law so they can take steps to adhere to them.
NCBFAA also educates Partner Government Agencies (PGAs) on the realities of getting goods across the border and advocating for trade and its members. The organization also talks to high school and college students about opportunities in international trade.
A program this important deserves the trade community's attention. Requirements for becoming an NCBFAA member may not be clear—read on for more information about the process.
What Does the NCBFAA Program Entail?
Customs Brokers do not have to participate in the NCBFAA, but doing so gives them an advantage.
The voluntary program ensures Customs Brokers have the knowledge and skills to handle all aspects of importing and exporting. Customs Brokers must take classes and pass exams on topics such as regulations and trade agreements to earn certifications.
Many Customs Brokers start with the CCS certification before moving on to other NCBFAA certifications. The CCS is a self-guided program that must be completed within a certain timeframe with a certain score. Once Customs Brokers earn a certification, they must earn a requisite number of continuing education credits yearly and pay an annual renewal fee to maintain their certification.
A certified NCBFAA Customs Broker is ready to deliver importing and exporting assistance. There are many benefits to working with these professionals.
What are the Benefits of Working with an NCBFAA Customs Broker?
NCBFAA members file 95% of all entries into the United States but account for only half of the Customs Brokers in the U.S. With so many filings, NCBFAA Customs Brokers bring a broad depth of importing and exporting experience to the table.
The benefits of working with an NCBFAA Customs Broker include:
Expert Assistance. NCBFAA members have a wealth of knowledge. Their certifications give them an extensive background in the import and export process, coupled with their on-the-job experience. These professionals are well-versed in international trade regulations and laws. They understand the paperwork and documentation Customs requires of every shipment.
Lower Shipping Costs. Saving money on shipping costs is possible with the help of an NCBFAA Customs Broker. These professionals compare rates from different carriers to secure the best rate. They have relationships with carriers that allow them to negotiate better rates and shipping routes than you could on your own. These benefits ensure your goods arrive on time and at the lowest cost.
Improved Efficiency. It can save time and effort by partnering with an NCBFAA Customs Broker. These experts take care of required paperwork and documentation so you don't have to, freeing you up to focus on other tasks. Their ability to provide specialized services, such as Customs clearance and inspection, can help your goods move through Customs faster and with fewer problems.
Peace of Mind. Using an NCBFAA Customs Broker gives you peace of mind because you know your shipments are in good hands. The NCBFAA holds Customs Brokers to extremely high standards and a strict code of ethics. NCBFAA Customs Brokers can help you understand Customs laws and regulations and are available to answer all your questions. Their efforts help you ship goods safely and ensure they arrive on time.
An NCBFAA Customs Broker can't do it alone. These professionals work in partnership with you to ensure the seamless shipping of your goods—but this relationship is bidirectional. Customs Brokers need accurate information about your shipment to comply with all laws and regulations.
Build a Strong Importing and Exporting Team
If you are building a team to import and export goods, consider partnering with an NCBFAA Customs Broker.
NCBFAA Customs Brokers belong to an active trade organization working for you. They have earned additional certifications to make the import and export process smoother and less stressful, and they can help you save money, improve efficiency, and achieve peace of mind.
AN Deringer is an NCBFAA member with certified Customs Brokers on its team. As an active NCBFAA member, AN Deringer has had several presidents, officers, and board members on the NCBFAA board of directors.
Every team member fulfills a needed role focused on a long-term goal. Your company can develop a winning exporting strategy when you add an NCBFAA Customs Broker like A.N. Deringer, Inc. to your team.