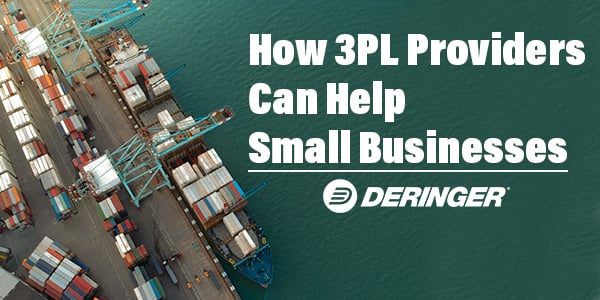 Between COVID-related bottlenecks, fluctuating trade agreements, and clogged ports, international shipping logistics have never been more complicated.
Many companies are turning to a 3PL provider to simplify the process and streamline their international shipping operations. 3PL services offer several clear advantages, like clarifying trade compliance and helping with fulfillment.
Although 3PL services require an upfront investment, you can save your business money in the long term with more efficient warehousing and ground logistics. Utilize pick-and-pack services to enhance fulfillment, ensure customer satisfaction, and increase revenue growth.
When it might be time to look for a 3PL,
Even highly qualified teams get overwhelmed sometimes—especially when businesses experience exponential growth. If your company is feeling growing pains, it's usually a sign of recent success.
It's common for obsolete inventory to pile up in a warehouse over time. Without dedicated warehouse logistics staff, you may become overwhelmed with outdated merchandise. Fill your valuable shelf space with correspondingly high-value items.
There's nothing wrong with getting third-party help when you're unsure how to solve your logistics issues. If your customer complaint inbox is filling up—or your company is expanding into a new region or opening a new facility—it may be time to enlist a competent 3PL service.
Hiring warehouse workers, managing ground logistics, keeping up with contracts, and invoicing are all costly and time-consuming. Although your 3PL represents an additional cost, it could actually save you money compared to doing everything in-house.
International Shipping & Trade Compliance
Navigating the convoluted world of trade compliance is challenging—even for a seasoned professional. Hiring a 3PL service allows you to focus on your core operations without the constant distraction of changing regulations and shipping backups.
Most business owners simply don't have time to ensure they have the correct duties, Customs, and documentation for their products. 3PL gives you the flexibility to expand into new markets and cross international borders with ease.
Rather than investing heavily in new staff and new warehouse infrastructure, count on the expertise of a qualified 3PL service to deal with your logistics for you.
Warehousing and Ground Logistics
Most mom-and-pop shops don't have enough inventory to require an entire warehouse. Even large businesses struggle to justify huge brick-and-mortar investments. With 3PL, you only pay for what you need.
3PL services make multi-use warehouses easy. Share the space with other small businesses and save money in the process. When it comes time to ship your products, trust your 3PL provider to move merchandise efficiently and optimize shelf space back at the warehouse.
If you have complex itemized orders, your 3PL service can adeptly maneuver merchandise out of the warehouse and break orders down by SKU to get products to their final destination.
3PL can scale to your exact needs as your business naturally ebbs and flows. You may require ample warehouse space one season and need to scale back the next. 3PL offers endless scalability and helps you respond to sudden increases or decreases in orders.
3PL Small Business Fulfillment Services
More than 99.9% of businesses are designated "small" by the Chamber of Commerce. Most of these businesses can't afford standalone warehouses, a dedicated transportation department, and staff to deal with invoicing.
As a result, many companies enlist the help of 3PL for fulfillment services. Businesses mitigate risks with instant access to years of expertise and knowledge of the industry.
A common solution is "pick and pack," wherein a 3PL service combines numerous businesses in a single warehouse and deals with shipping logistics.
Pick and pack offers a sizeable cost reduction so that growing businesses can invest in other important areas of their production. With improved forecast accuracy, users are generally happier with their customer experience.
Building and maintaining an efficient logistics system requires years of dedicated work. Concentrate on your core business and leave logistics to professionals with a quality 3PL service. Depend on a cost-effective supply chain and optimize warehouse space as your business expands across international borders. If you need any advice on 3PL services, please reach out to A.N. Deringer today.