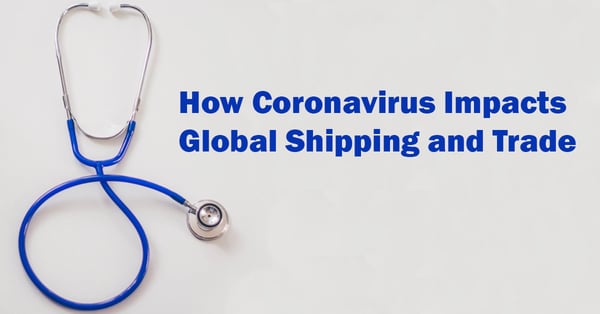 Shippers canned dozens of Chinese exports since the coronavirus outbreak, preventing commodities like toys, textiles, electronics, and auto parts from reaching their European and North American destinations.
The current trade storm began brewing when the Chinese government extended Chinese New Year to stem the deadly virus's spread. Trade winds picked up when that scenario prompted shippers to increase their blank sailings.
Carriers pulled capacity out of the market to balance the loss of cargo volume from China. The Moller-Maersk A/S website alone lists 27 blank sailings since January 31, with more expected as the coronavirus continues to wreak havoc on global trade.
The International Maritime Organization (IMO) reports that 90% of all cargo moves by sea, with most cargo going through China. In fact, the United Nations Conference on Trade Development reports that China is home to seven of the ten busiest container ports. There's no doubt that this historic supply chain disruption will impact global trade for months, especially in the shipping industry.
Factories at a Standstill
Normally, factories shut down for weeks during the Chinese New Year, with workers returning from holiday in the last week in January. But this year, Chinese officials extended the holiday to February 9 to keep citizens home and contain the spread of the coronavirus.
Though February 10 marked the official back-to-work date, operations remain at a standstill as many Chinese companies still lack the labor force to resume full operation. Travel bans in some inland locations keep Chinese workers at home instead of at work. Migrant workers must also undergo a 14-day quarantine before returning to work.
Because of this delay, many companies are not producing goods, and containers are not moving. This will result in a backlog in the supply chain, which experts expect to continue through March – possibly even longer – with a great impact on the global supply chain.
It's not far off to imagine empty shelves at a U.S. Home Depot, for example, because companies cannot produce or deliver the goods. This outbreak could also lead to consumers paying more for delivered goods. Increased shipping competition leads to higher shipping costs, and companies will pass these charges on to consumers.
But because the illness hit during the annual market slowdown after Christmas and there is a normal lag in exports during the first quarter, experts predict the impacts will be short-lived. The impact would be far worse if the virus hit before students returned to school in the fall or right before the holiday season.
The impact of an outbreak during a peak season would be catastrophic. Companies tie their profits to these peak seasons, and if they cannot restock their shelves, it hurts their bottom line.
The Impact of 14-Day Quarantines
Many major ports are adopting 14-day quarantine periods for vessels that arrive from or travel through China. Vessels that come from China must report on their crew members' health before berthing in port.
The U.S. is allowing non-passenger vessels to run without restrictions if no one is sick among the crew. For services faster than 12 days, especially along the West Coast, vessels must constantly check the crew and give updates to the port. Vessels with sick crew members must immediately inform the nearest Coast Guard captain.
Capacity Crunches and Container Shortages
Once production resumes, experts predict a capacity crunch. When the impact of the coronavirus dies down, logistical problems will crop up as cargo owners rush shipments to market to make up for lost time.
Companies will work double-time to meet current and past capacity needs. The scenario has experts bracing for space shortages on ocean liners and cargo airlines in the months ahead.
The shortages will cause delays that impact export activities in other nations, too. The U.S. and other countries use containers to export their goods. If ocean liners are not hauling enough containers from China, countries like the U.S. or Canada may encounter a container shortage.
Additionally, Customs may delay cargo upon delivery until companies deliver the correct paperwork and answer additional questions. These delays may lead to detention and demurrage charges as containers sit at ports, unable to move.
Ports may issue demurrage fines when a container moves from a ship to the terminal, but companies do not pick it up within a set time frame. The port may charge detention fees for not returning an empty container after a grace period. These delays may not be the shipper or the supplier's fault, but someone must absorb the charges.
Using a Freight Forwarder to Reduce Risk
Though it's impossible to prevent a deadly virus from disrupting supply chains, you can reduce your risk by partnering with a freight forwarder.
Freight forwarders arrange efficient and cost-effective transport overseas. These entities leverage established carrier relationships to negotiate competitive prices and select optimal shipping routes.
Because freight forwarders stay abreast of ever-changing trade requirements, they stand ready to help you navigate unforeseen obstacles, such as blank sailings, capacity constraints, and container shortages because of a viral outbreak.
The coronavirus outbreak – combined with an extended Chinese New Year and higher-than-normal blank sailings – is a perfect storm that can lead to unprecedented supply chain disruptions for months to come. By being aware of these forthcomings and partnering with a valued freight forwarder, you can be prepared to the best of your ability to face the coming months and get your company's shipments on track and on their way.