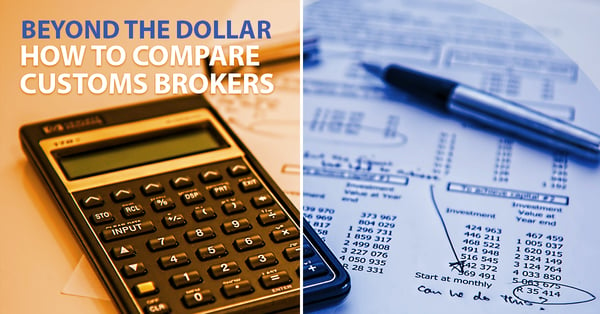 Importers might aptly view a Customs broker as a trusted partner for Customs entry filing, but a broker's job is also to help safeguard importers against delays, fines, and penalties due to errors or regulatory violations.
Therefore, filling this crucial role means first defining your criteria to help you through the process of selecting the right partner for your Customs brokerage needs. This is where things can get tricky! Once you have defined what you need in a Customs broker partner, thoroughly compare the contenders' service offerings, style, and approach to compliance and customer care – potentially critical elements above and beyond the price quote – to ensure you select a broker that best fits your unique needs.
Finding the Right Customs Broker
So you've established that it's important to you to partner with an experienced, licensed Customs broker to import your goods; one who will keep shipments moving by helping you to understand your legal responsibilities as importer of record, and avoid errors in Customs documentation. Asking the following questions will help you through the process of selecting the right Customs broker for your company.
Does the Customs broker know your industry?
Many importers have products with highly specific regulatory requirements. Customs brokers who do not specialize in your commodities may lack important product knowledge, which is vital to determine classification and potential reporting requirements with partner government agencies (PGAs).
For example if you import apparel, does your Customs broker know to submit an "anti-transshipment" declaration for applicable apparel items?
If you import food or medical items, do they understand the Food and Drug Administration (FDA) requirements for food, medical devices, or pharmaceuticals?
Look for participation with trade or industry associations, as these can be a potential indicator of commodity-specific expertise.
Does the Customs broker share your values?
As an importer, you may be committed to complying with regulations, mitigating risk, and improving your import strategy wherever possible. A knowledgeable and experienced Customs broker should share these values and help you up your game. Importers have an obligation to comply with trade regulations, so partnering with a Customs broker equally focused on compliance should be a priority.
While comparing Customs brokers values, consider the following:
Does the Customs broker value and measure their own internal compliance?
Does the Customs broker have ongoing employee education?
Does the Customs broker perform regular and rigorous internal auditing?
Does the Customs broker actively participate in their industry associations?
A broker who demonstrates these qualities and behaviors is much more likely to be the kind of partner who can help you secure a regulatory compliance foothold.
Can the Customs broker handle your volumes?
It's important to make sure you choose a Customs broker with the resources to handle your business, particularly during peak shipping times when volumes are high.
While considering Customs brokers, these questions may help ensure the Customs broker is able to handle your volume:
Do they have adequate staffing to meet your needs, around the clock?
Do they have the necessary technology to process your entries accurately and efficiently?
Do they provide you with the necessary IT tools to maintain visibility to your import data?
Do they have a back-up plan in place, in the event of a system or weather related emergency?
Will they work with a documented standard operating procedure for your business?
The answers to these questions will help you determine if your intended partner will be there for you when you need them.
What capabilities does the Customs broker have?
Although a basic requirement for any Customs broker will be to file the required data with CBP and applicable PGAs, it is critical for the importer to look beyond the transaction and understand the "big picture" with your Customs compliance.
Does the Customs broker provide transparency with their fees?
You need numbers you can trust in order to minimize unexpected costs and prepare an accurate budget. A quality Customs broker shares all costs and fees at the onset of the relationship. If problems arise, the Customs broker will estimate additional fees before completing the work.
Does the Customs broker offer importer educational opportunities or training programs to assist you with your compliance efforts? Do they provide consulting services to assist you with the various trade-related matters you may face, such as post-entry corrections, responses to CF-28s or CF-29s, prior disclosures, or binding ruling requests?
These services may become necessary to resolve current or future questions, errors, disputes, or discrepancies that inevitably occur when importing into the United States.
While considering Customs brokers' various capabilities, look for a knowledgeable Customs broker who can offer value-added services.
Value-added services may include:
Conducting annual business reviews
Providing robust reporting capabilities
The ability to talk to a person instead of an automated phone menu to resolve issues
What online technology and tools are available to you?
An innovative Customs broker will offer tools and technology to help importers with their supply chain needs.
Consider these technological questions when comparing Customs brokers:
Does the Customs broker you are considering provide you with the ability to submit Customs data electronically, to help speed up your entry processing, maintain control of your entry information, and avoid transcription errors?
Do they give you the ability to access your Customs documentation and data submissions at will?
Tools such as these are invaluable, as they will help you maintain visibility to and control of your Customs compliance, identify supply chain trends, analyze duties, taxes and brokerage costs, and more.
Comparing Customs Brokers
Congratulations! Now that you've established the criteria you need to help find your ideal partner and you've gathered quotes from potential service providers, it's time to compare options. Make sure you have all the important information such as pricing, experience, specialization, technology, value-added services, and transparency you need to help you choose the right Customs broker for your needs.
Remember, you're looking for a Customs broker that goes beyond the transaction at hand, and has a compliance-forward approach. Your goal is to select a broker who not only has the ability to file your entries, but intimately understands today's uncertain trade environment and helps you to prepare for it.
Partnering with the right Customs broker will help you to minimize delayed clearances, entry errors, and fines. They will help you enhance your Customs compliance, and improve the process of moving goods across the globe. Be sure to partner with a Customs broker that identifies and acknowledges your importing needs. Remember, this process starts by asking the right questions early and comparing notes beyond the quotes.