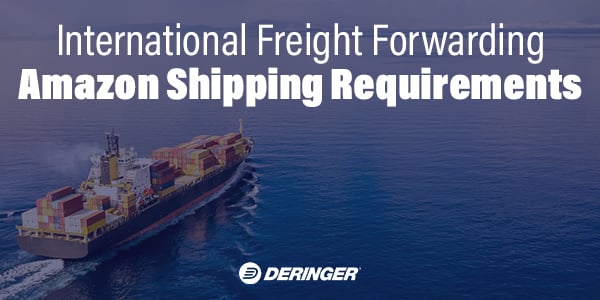 The Amazon marketplace represents an enormous sales opportunity for growing businesses. Your company can become an overnight success with a quality product, consistent customer care, and positive reviews.
But Amazon has stringent requirements for sellers. All products must meet rigorous criteria to qualify for the coveted "Fulfilled by Amazon" (FBA) label.

Do your research beforehand and make sure your product meets these requirements. Learn about Amazon shipping requirements and take advantage of its lucrative platform. Otherwise, you could end up with lost inventory and enormous sunk costs.
Importer of Record
The Importer of Record (IOR) is an absolutely essential document for any international shipment going through U.S. Customs. In its most simplistic form, an IOR is a declaration of a shipment's contents and a guarantee that products meet local laws and regulations. It also verifies that all associated taxes and duties have been paid.
Non-resident importers can submit an IOR, but this usually requires additional assistance from a Customs broker, third-party logistics (3PL), or freight forwarder.
Prohibited Products
In order to comply with U.S. Customs and Border Protection, Amazon strictly disallows certain products. Many of these goods can qualify for the FBA status if they receive additional permits or authorizations.
These items include:
Agricultural products
Plants and seeds
Food and alcohol
Vitamins and supplements
Medical devices, drugs, and medication
Hazardous goods
Pesticides
Again, a qualified freight forwarder or Customs broker can help ensure your products meet these requirements. Amazon will not vouch for any third-party goods. Attempts to list Amazon as the importer or consignee will create problems at Customs.
Duties, Taxes, and Shipping Costs
Because Amazon is not responsible for any duties or additional fees associated with third-party shipments, any shipments arriving at an Amazon fulfillment center with outstanding fees will be refused without exception.
Sellers should look into what will work best for them as far as incoterms are concerned. For example, shipping DDP, having the supplier arrange door to door, and being responsible for customs duties, may not always be the best-case scenario.
Oftentimes, suppliers claim to move DDP, but sellers do not see that it was arranged DDP. The supplier has no existing broker, and the buyer more than likely failed to realize that they agreed for the supplier to arrange only to port. They end up finding a broker and arranging final transportation.
Find out what tariffs your product qualifies for to avoid surprise costs. If your product travels through more than one country, be sure to research requirements and regulations for each locality. If you're unfamiliar with international tariffs, a 3PL company can be a helpful assistant.
Ultimate Consignee
Although Amazon refuses to act as the Importer of Record, PGA importer, or PGA consignee, it can be listed as the ultimate consignee, assuming that "in care of FBA" is listed before the name of the Amazon entity.
In this case, PGA stands for "Partner Government Agency" and represents the agency working with Customs to certify products.
Return of Imports
In the unfortunate instance that Amazon does not accept your goods, you will not be able to pick them up from an Amazon facility. Amazon cannot send products internationally, so international businesses will need to arrange for shipment to a U.S. address.
Common causes of these rejections from Amazon:
Outstanding duty if shipped via courier, if the de minimis of $800 was exceeded. Since Amazon is the ultimate consignee, charges for duty requiring payment are asked from Amazon; and result in full rejection of freight.


Most common is the delivery using non-partnered carriers. Especially when the packing requirements are not met, such as overhang, oversized boxes, etc. Amazon will completely reject and issue the seller a warning, which ends up costing the seller thousands for rework and re-delivery. Amazon is more lenient and will most times accept cargo that might be overhanging or oversized if shipped with a partnered carrier. Amazon simply issues the seller a warning in seller central. All shipping plans are highly recommended to be arranged directly from seller central to ensure that transportation carriers are Amazon-approved partners.



A shipment not found, canceled, or deleted. Due to the current market conditions delay of freight is prominent and Amazon will cancel an expected shipment if late "x" amount of days from estimated delivery. Sellers messing around in their central may end up canceling or deleting their shipment as well which can result in rejection upon arrival at the FBA.
To begin this process, fill out a "Create Removal Order" form in the Seller Central.
Testing Requirements
Any toys or products intended for children will undergo additional scrutiny. Customs will verify all certifications and check the integrity of documentation. If Customs agents suspect falsified documentation or unsafe products, they will seize the goods and generally fail to return them.
If buying from international manufacturers, do your due diligence and protect yourself from massive loss of inventory. All products are susceptible to seizure, but be especially careful if you sell products intended for children.
Be aware that failing testing requirements may result in your removal from the FBA program. Once your company has been removed, it is exceptionally difficult to return.
Amazon is notoriously strict about accepting freight. If any boxes are damaged or fail to match sizing guidelines, they can reject the entire order or flag it in their system. Even if the flagged merchandise is eventually accepted, it can create inconvenient delays.
How a 3PL Company Can Help
As you can see, Amazon shipping requirements are rigorous and create many opportunities for sellers to lose valuable merchandise. A qualified third-party logistics company can help your business navigate these issues.
Even better, you can save money on warehouse costs. Most 3PL companies have their own warehouses and can scale expenses to match your business. Don't bother paying rent for an entire warehouse when a 3PL company can consolidate your merchandise and reduce your overhead.
In the complicated world of international shipping, it pays to have someone in your corner. Consider a 3PL company to simplify your Amazon shipping requirements and save you money in the process.