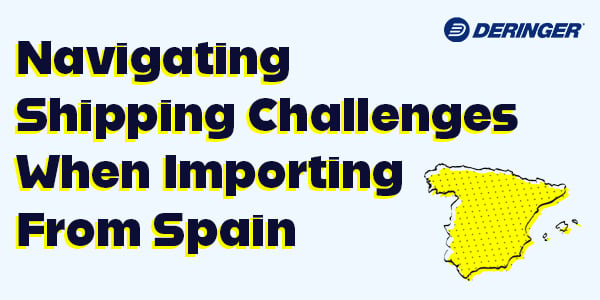 Elevated freight rates, skyrocketing inflation, and the war in Ukraine are drastically increasing the cost of goods and disrupting global supply chains.
Spain is not immune to these pressures, and these challenges affect all U.S.-Spain trading, which experts value at $48.5 billion.
Shippers have dealt with capacity constraints and equipment shortages once goods arrive in port for almost two years. One particularly relevant issue in both import and export is transportation within the United States and booking confirmation or space availability in vessels when exporting to Spain.
In a rapidly evolving market fraught with unprecedented difficulties, experts on both sides of the Atlantic recommend weekly communications with shipping partners and U.S. clients. Market conditions change so rapidly that they may radically differ from a month ago. Weekly conversations will help keep you up to date so you can be successful.
Top Challenges When Importing/Exporting From Spain
The top challenges when importing and exporting from Spain include the following:
Increasing Blank Sailings

. The current climate requires booking two to three weeks out when exporting from the U.S. to Spain. Still, there is no guarantee you will secure a confirmed booking. Many vessels are sailing at 50-60% capacity, translating to more blank sailings from shipping lines to avoid empty vessels and to reduce costs.

Escalating fuel costs.

With the current fuel situation, expect to pay more. Spain hasn't seen a general increase in fuel surcharges for ocean freight yet. But it has seen surcharges of $100 a month on containers—not necessarily due to an oil surcharge, but fuel costs are inevitably affecting the cost of shipping to the final destination.

Labor shortages.

Trucking companies are experiencing severe labor shortages, with many truckers going on strike. This will continue. Shippers must plan ahead and communicate with partners regularly to stay updated.

Congestion on the U.S. side.

West Coast ports earlier this year experienced congestion for some time, but we expect congestion on the East Coast, which had been high, to be reduced. This congestion leads to surcharges on the East Coast. The West Coast began charging $50 congestion surcharges as congestion worsened. Congestion impacts all lanes, no matter where goods come from. Freight forwarders now ask customers to forecast freight volumes better and farther out to give insight into what's needed and to provide detailed information to truckers as soon as there is a container number.

Longshoreman Contract Negotiations.

Labor union agreements for West Coast ports ended on July 1, 2022, and the negotiations are showing no signs of progress. The longshoreman must enter a new contract to minimize uncertainty in the market. A strike here would spell disaster. In 2015, it took West Coast ports three months to clear the backlog after a week-long longshoreman strike. That strike occurred in a normal market where goods moved smoothly. It would be a lot worse today.
Mitigate Congestion Impacts
Stay in close contact with your freight partners to navigate ongoing and ever-shifting congestion. If you don't, you may send cargo to a port that supposedly operates smoothly but is congested due to recent changes. Good communication helps your logistics partner decide the best solution for you.
Monitor Reliability
On the Transatlantic trade, shipping reliability has fallen to 37%, which is down from 80% pre-pandemic, meaning your shipment will be late 63% of the time in the current market. Keep these numbers in mind as you plan—especially because reliability will worsen as congestion on the East Coast grows. It could take up to 65 days for cargo to move from Barcelona to New York.
Because reliability changes weekly, it's vital to communicate regularly with trade partners and develop contingency plans when loads are late.
Choose the Right Incoterms
Most shippers choose between two main Incoterms when importing or exporting from Spain to the United States.
Ex Works (EXW).

The seller manages freight until it's loaded on a vessel. The buyer assumes responsibility from that point forward.

Delivery Duty Paid (DDP)

. The seller bears all responsibility for the cost of the shipment, duty included.
For exportation to the U.S., most shippers rely on DDP or EXW terms. But when importing into Spain, EXW is used almost 100% of the time.
Using DDP makes sense for shippers not yet established in Spain who are unfamiliar with the rules and regulations. But EXW works well with organizations that have a dedicated logistics expert.
Select the correct Incoterm and work with a trade partner to do all Customs clearance in Spain before the goods leave port. Goods can get held up in U.S. ports because of inaccurate paperwork. That scenario becomes very expensive because terminals now charge $300 a day per container for demurrage, and it can take up to three weeks to resolve a problem.
Shipping pressures proliferate when importing from Spain to the U.S. Successfully navigating these challenges requires better long-term forecasts, improved communication with trade partners, and a game plan for changing things on the fly.