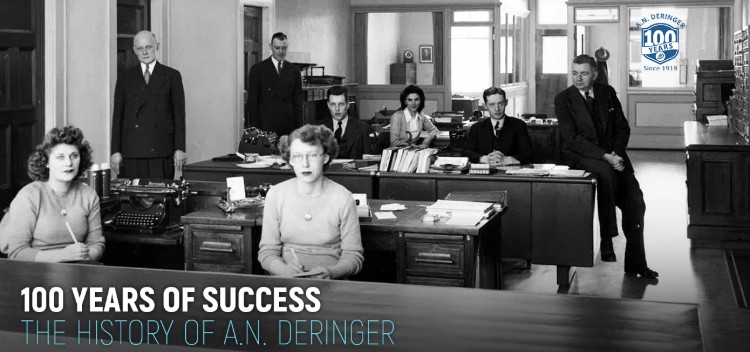 Deringer has deep roots in the logistics industry and is recognized as a top provider of customizable supply chain solutions--solutions that have evolved over time to meet the needs of customers throughout North America. Deringer's geographical footprint, technology, and service offerings reflect our responsiveness to customers and the company's ability to navigate regulatory and political changes over time.
The company's core values were born with the company's founder, but have transformed to better reflect the diversity and mission of the company in its centennial year. Moreover, these tenets have contributed to Deringer's legacy of long-term customer relationships and passionate employees and are woven throughout the fabric of the company.
What started as a small hay and grain operation in 1919 is now a leading supply chain partner with thirty locations strategically placed throughout the U.S. However, throughout a century of expansion, the headquarters has stayed consistently located in St. Albans, Vermont.
Alfred Neel Deringer, who was originally from Toledo, Ohio, moved to Montreal at the request of his employer, the Raymond P. Lipe Company. The Lipe Company wanted a location near the largest hay and grain port in the world with easy rail access to the American and Canadian prairies. The high demand for hay and grain was to supply the Allied Forces' cavalry in France during World War I. Soon after, Mr. Deringer was asked to establish a St. Albans, Vermont, location because the city was a high-volume rail hub.
On August 1, 1919, 34 days after the Treaty of Versailles was signed, Mr. Deringer purchased the St. Albans location and founded a new company: A.N. Deringer, Inc. The facility, located in Italy Yard alongside the railway, was the largest hay and grain warehouse in the U.S. and the company's expertise in logistics continued to grow. This facility could accommodate two-hundred rail cars.
The Tariff Act of 1930 required Customs brokers to post bonds on behalf of clients. Mr. Deringer's expertise allowed him to assist other companies as they navigated these new importing rules. In the late 1930s, he sold the hay and grain portion of the business to focus on Customs brokerage.
Customs Brokerage Expansion
At this point, the bulk of Canada's commodities were natural resources. As the marketplace grew and in response to the Tariff Act of 1930, Deringer opened the General Insurance Agency, which allowed Deringer to sell U.S. Customs bonds. In 1941, Deringer purchased Lavell's Customs Brokerage company in the Rouses Point area of New York, which expanded operations beyond Vermont. Deringer also started to handle incoming Canadian ocean freight via the railway at this time.
By the 1950s, during the construction of New York and Vermont's interstate highways, shippers began to depend less on rail transportation and more on trucking. Staying in lock step with the industry, Deringer purchased land at truck border crossings in Highgate, VT; Calais, ME; and Champlain, NY.
A relationship with a rail line still meant easier access to importers' Customs brokerage business. In 1956, Deringer acquired Central Vermont Railway's Customs brokerage business at its St. Albans location, which further solidified Deringer's charge into the Customs brokerage business.
The first ocean container made its maiden voyage in 1956, and the first dock-side container crane was developed in 1959. These "firsts" would revolutionize the ocean transport business over the next 15 years. Recognizing this trend, the company opened its first air vessel location in Boston, MA, in 1974. Expansion continued with the purchase of Pacific Customs Brokers in Jackman, ME, and the relocation of Deringer's headquarters to its current position on North Main Street in St. Albans. In 1976, Deringer obtained a freight forwarding license from the Federal Maritime Commission.
Expanding to Become a National Broker
A few years later, the purchase of WR Filban Company helped Deringer expand further into the air and sea markets, helping to establish us as a national broker. With this acquisition, Deringer gained offices in Detroit and Port Huron, MI, and Buffalo, NY. This doubled our size, allowing us to serve clients at the nation's largest border crossings.
Deringer continued to expand its already diverse profile of services by opening a USDA meat inspection operation in Champlain, NY, in the late 1980s. In the mid-1990s, Deringer purchased Milne & Craighead's Chicago and Cincinnati offices, expanding our service offerings to additional air/vessel geographies. These acquisitions were followed by others in Pembina and Portal, ND; New York City, and Los Angeles in the late 1990s.
In 1994, the Customs Modernization Act resulted in the gradual elimination of tariffs between Canada and Mexico via the North American Free Trade Agreement. However, its significance was farther reaching because it also established the importer as the responsible party, mandating they exercise reasonable care. As a result, internal compliance and trade consulting became a necessary part of Deringer's business. Importers, then and now, require a partner that helps them comply with regulations and avoid fines or delays. In 1999, Deringer's Trade Advisory Group (formerly Deringer Consulting Group) was created to help guide importers through trade and Customs requirements.
In 2000, Deringer received the first remote location filing permit, which enabled us to file entries nationwide. However, we continued to recognize the importance of having brick and mortar facilities staffed with people who have relationships with local authorities; therefore, our Atlanta office was opened in 2000, Houston in 2001, and Seattle in 2005.
After the tragic events of September 11, 2001, U.S. Customs shifted its focus to security, which introduced new processes and programs to the industry. Already recognized as a highly compliant Customs broker, Deringer took a proactive approach to trade reform. The company pioneered new imaging technology while also participating in U.S. Customs and Border Protection's Customs-Trade Partnership Against Terrorism (CTPT) program. A few years later in 2009, Deringer was selected to participate in a Broker Account Management pilot program and was one of nine brokers that participated in CBP's Importer Self-Assessment Pre-Certification Program.

Looking Forward
Having a physical presence across the northern U.S. border and at key air/vessel locations is key to Deringer's customer service success. Adherence to our core values, dedication to compliance, and thoughtful growth of the company has allowed it to thrive for a century. Deringer's employee's unwavering dedication to their clients has fueled one-hundred years of success, giving them inspiration as they aim for one-hundred more.