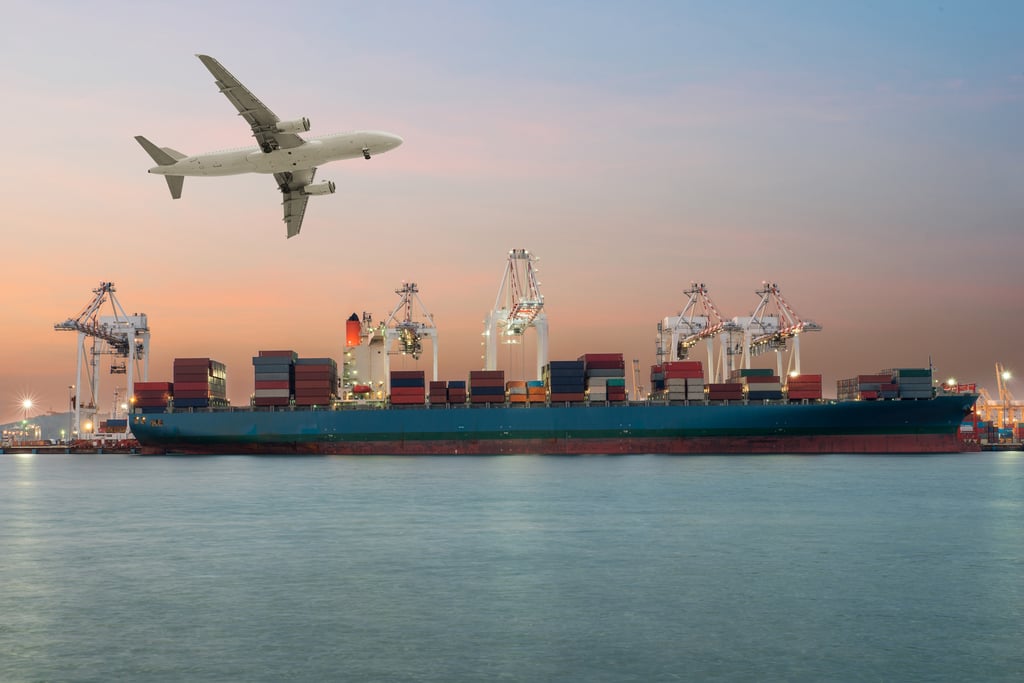 In today's emerging marketplace, businesses strive to increase their profitability and simultaneously remain competitive in an unpredictable economy. While every organization is different with unique products and business strategies, transportation often represents one of the largest costs importers will face. Cutting the cost of transportation is often the first place executives look to improve the bottom line.
When choosing the most cost effective method of transportation for your supply chain needs, there are several factors that come into play…so, how do you decide whether your international shipments should be transported via air or ocean freight?
To maintain your strong position in the global market, you need to understand how methods of transportation contribute to cost savings and supply chain efficiency. For businesses shipping overseas or importing foreign goods, there are three main factors to consider when choosing to ship via air freight vs ocean freight.
1. Transit Time
Most businesses don't need to be told that air travel is much faster than travelling by sea. In some cases, sea shipments can take up to a month to arrive at their destinations, while air shipments typically arrive between two and five days. Still, it's important to consider transit time. How quickly you need to receive your product may determine which mode of transportation you choose.
Do you need your goods in less than a week to keep up with demand or can you wait a month for your product to arrive?
There are numerous factors that can affect the urgency of your shipment. Your goods could be perishable or time-sensitive, your customer may demand their product immediately, or the time of year may matter. Many companies have moved towards a just-in-time approach with their inventory, which reduces holding costs. But slower modes of transport may pose risks that shipments will not arrive on time. Air freight is much faster than ocean freight, and will likely be the mode of transportation you select if you need your items quickly. However, if time is not a top priority and you can wait for your shipment, you may decide to choose the slower ocean route.
2. Cost
Naturally, every business keeps their bottom line at the top of their priorities list, and in today's competitive business environment, the phrase "time is money" has never been so applicable as it is now. So, while transit time plays a major role in your decision, the cost of transportation is just as important to consider when managing your supply chain.
Which shipping method is the most cost effective for your transportation requirements?
Depending on the size of the shipment, air freight is typically more expensive than ocean freight—you may even expect to pay five to six times more to ship by air. However, the basic shipping charges do not make up the overall cost of your international shipment. Businesses also need to consider the related destination charges and fees that make up the total landed cost of each particular mode of transport.
It is important to factor in destination charges, or the total landed cost (sum of all costs associated with making and delivering products from the point of origin to the final destination). The landed cost is comprised of many components:
original price of the product,
all transportation fees (inland and ocean/air),
customs duties,
taxes,
insurance,
tariffs,
crating costs,
handling fees, etc.
Businesses will need to break down each individual fee applying to a shipment to determine which transportation method is more feasible in the long run and will benefit your bottom line. For instance, the actual cost of sea freight may be cheaper than shipping by air, but the warehousing fees at seaports could be more expensive than those at airports. Knowing all of the costs associated with each shipment is crucial to ensure you are choosing the best shipping method for your supply chain.
3. Product Characteristics
Not all transportation management is about the bottom line and efficiency. The type of cargo you're shipping has an influence on the mode of transportation as well, and you will want to consider the physical attributes of your product.
Is your shipment large and heavy or is it small and light? Is it fragile?
Generally speaking, small, high-value products are best suited for air freight (i.e. high-value or lightweight high-tech products); large, bulk shipments are ideal for ocean freight (i.e. cars, grain, etc.). Transport companies bill by chargeable weight, which is based on the dimensional weight or actual gross weight, whichever is higher.
Dimensional weight, also known as volumetric weight, is a pricing technique that uses an estimated weight calculated from the length, width, and height of a package. The volumetric weight is usually expressed in cubic meters. For air freight, one cubic meter equals 167 kilos, and for ocean freight one cubic meter equals 1,000 kilos. These are substantial differences. It is often much cheaper to ship by sea for larger and heavier shipments, but as shipments get smaller, the margin between the prices decreases, sometimes making air the more cost effective option.
Transit time, cost, and product characteristics are preliminary factors when determining how to ship your products from overseas, so they provide a good place to start thinking about your options and what best suits your needs. If you can master your supply chain, it may create just the competitive advantage you need.
Considering these three factors should help you make the best decision for your cargo shipment.