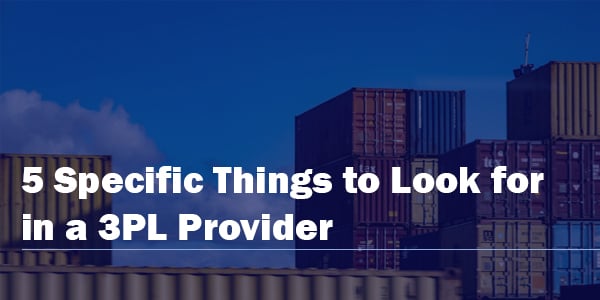 The coronavirus's impact on supply chains is receiving more attention in the shipping world than the pandemic itself. Supply chain managers are working tirelessly to keep goods moving as the virus disrupts global imports and exports.
The shipping situation changes daily and requires expertise that third-party logistics (3PL) providers stand uniquely positioned to bring. Even without a pandemic at play, 3PLs benefit businesses by enhancing efficiency, controlling costs, and offering exceptional customer service. Partnering with a 3PL helps companies coordinate goods from an overseas factory, handle Customs paperwork, negotiate carrier contracts, load goods onto a vessel, and even find alternative shipping routes during global supply chain disruptions.
The first step is deciding to add a 3PL to manage logistics in a market rife with disruptions and delays. The next step is finding the right one. Here are five tips for hiring a 3PL that matches your logistics needs.
#1 Select a 3PL with Expertise in Your Industry
Companies reach out to 3PLs for skills or infrastructure they lack internally. Businesses also sometimes seek 3PL partners during disruptive times. Both are excellent reasons to add a 3PL partner. However, problems arise when companies hire 3PLs who lack experience in their industry.
Specialized 3PLs build solutions around specific commodities. By creating and implementing solutions for specific industries, these 3PLs manage the nuances that make an industry tick. Their industry connections also help them navigate unexpected disruptions.
A 3PL with niche industry experience understands the regulations, relationships, and inventory management issues of that industry. There are numerous partner government agencies (e.g., FDA, USDA, NHTSA, etc.) regulating imports and exports, which require expertise to prevent shipment holds, exams, or penalties. A 3PL with Customs brokerage skills, and who has specific industry experience, will have the know-how to avoid these hold-ups.
Furthermore, 3PLs with specific commodity knowledge will ensure that your shipments are transported with the proper equipment, such as open-top, high cube, flat, or reefer containers, as well as the right dunnage and strappings. When a 3PL knows your industry, they move from being a provider to a partner and implement programs and practices that continuously improve your supply chain.
Ask prospective 3PLs to describe how they assisted other clients with logistics challenges specific to your industry. Then speak with those clients in your industry to learn more about their experiences with that 3PL.
#2 Consider the 3PL's Technological Capabilities
The right 3PL employs modern technology to conduct business. This offering may be through EDI, which facilitates information exchange between multiple parties, even when they operate on different systems. However, many highly technical 3PLs also have proprietary and/or best-in-breed platforms to facilitate trade and provide visibility.
Full transparency and real-time information sharing are necessary to track key performance indicators (KPIs) for shipments. So, it's critical to make sure perspective 3PL service providers use systems that you can easily incorporate into your business, if not inherently integrate.
Read: Our "How to Evaluate A Customs Broker" blog for more KPI information
Many 3PLs have apps or portals that put shipping information at the shippers' fingertips. Depending on the platform, they may automate the trade process, provide Customs entry and cargo visibility, trade metrics, or facilitate inventory management. Most apps also update in real-time to let you track, change, or view your shipments.
Veer away from 3PLs that offer one-size-fits-all technology solutions. The right logistics partner offers customizable data analytics and reporting functions for your shipments and integrates data from multiple sources to provide a single place to view every shipping function. What's more, some 3PLs can solve roadblocks in the shipping process through their technology offering. Data integration, in the right hands and at the right time, can make for a streamlined—and sometimes more compliant—trade process.
Consider the 3PL's technology for tomorrow. Ask how often the 3PL updates their technology and adds new services or features. A 3PL's ability to innovate and adapt to logistics trends is a key differentiator.
Don't overlook the security of the 3PL's technology. While information must flow freely, it also must be secure. Ask the 3PL how they protect their network from cyberattacks.
#3 Seek a 3PL with Coverage in the Right Regions
A 3PL may maintain an international network, but still lack footholds in the countries that you ship to.
If you ship your goods through Chennai, a 3PL without a connection there might not be the best option. Pick a 3PL that maintains local offices or partnerships near your major manufacturing hubs. A full-service 3PL will also be able to provide less-than-container load (LCL) consolidations or buyer's consolidations to help offset the price of LCL shipping or the time setbacks of waiting for a full container load.
The optimal 3PL acts as a trusted advisor and understands your business both geographically and culturally. Every 3PL maintains warehouses and ocean contracts, but those contracts must coincide with your business operations to maximize your 3PL partnership.
#4 Find a 3PL that Can Grow with You
The right 3PL helps meet annual budgets, quotas, and KPIs, but also stands ready to scale operations as business ebbs and flows or your company grows.
Pick a 3PL that can scale logistics operations according to current inventory and customer demands along with future expansion. Some considerations may be: do they have a second or third shift? Do they have multiple offices to handle overflow? Do they have experience with seasonal products that have required them to accommodate customers' shifting shipping patterns?
A 3PL that understands your plans and forecasts can deliver support services as you need them. It makes little sense to partner with a 3PL that fits your business today but cannot meet your needs tomorrow. Find a 3PL aligned with larger and smaller clients than your business. Working with partners of various sizes shows the 3PL can scale up or down as required.
#5 Look for a 3PL with Value-Added Services
You may only require assistance transporting goods from Point A to Point B, but tomorrow, your needs may change. A 3PL that can manage the entire logistics process meets your needs for today and the future.
A good 3PL is not limited in their services. These service providers can coordinate shipping goods from an overseas factory, prepare and process Customs paperwork, pack and move freight, warehouse or distribute goods, and arrange alternative shipping routes or carriers. They should have reporting capabilities, electronic billing options, and in-house compliance resources. When you need to build a compliance program, become CTPAT certified, navigate Customs inquiries, or manage other trade hurdles, 3PLs with an in-house consulting team can also pay dividends because they will already have access to the team handling your logistics and your records. Selecting a 3PL with varied services does not mean your company needs to use all of them. But it sets up your business for future success should you require those services later.
The pandemic may shine a spotlight on where your company's logistics fall short—partnering with a 3PL ups your game during a crisis, requiring corporations to concentrate on running their businesses, not moving goods.