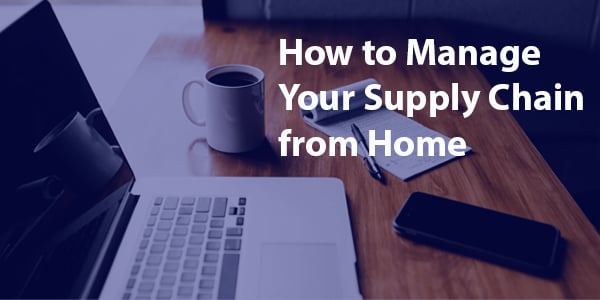 Before COVID-19 required social distancing, just 7%, or roughly 9.8 million of the nation's 140 million workers, worked from home.
Those stats, taken from the Bureau of Labor Statistics' 2019 National Compensation Survey, look vastly different today. A recent CNBC/Change Research States of Play poll finds the pandemic pushed 42% of Americans into remote workplaces.
Supply chain analysts encounter challenges as they analyze and evaluate a supply chain and its projected needs from the comfort of home. Analysts must research and identify new suppliers, monitor existing supplier inventories, and use data to predict when to order new inventory.
Analysts and their clients may be ill-prepared to handle the challenges of working remotely, which can complicate matters. Adding virtual tools and technology and establishing company policy and work etiquette practices help make the transition seamless and supply chain management from home possible.
Tech Tools for Remote Supply Chain Management
Technology is where the rubber meets the road in the "new normal" of working remotely.
Resilient companies leverage technology to keep employees connected and productive when working from home. Teleconferencing software, remote desktops, collaboration tools, and stable internet and cellphone connections are a must.
Still, a Citrix survey with OnePoll shows many companies struggle to solve remote work challenges. Citrix reports the top frustrations for remote workers include slow broadband and Wi-Fi, multiple conference call services, limited access to work-related apps, and slow VPNs.
Improvements start by setting internet requirements. Google Hangouts reports that a two-person video call requires an outbound bandwidth capacity of 3.2 mbps and an inbound bandwidth capacity of 2.6 mbps. Group video calls require more inbound bandwidth; 3.2 mbps for five video participants and 4 mbps for 10+ participants.
Ensuring that cell phone coverage is sufficient prevents dropped calls during essential business conversations. Employees living in remote areas may require a landline for business calls. And using a tool like Mitel Phone Manager lets employees control their telephones from their PCs.
Companies can select tools like Skype for Business, Zoom, Cisco WebEx, and Amazon Chime for video chats. Some companies designate different meetings for each platform. Zoom or WebEx, for instance, are often used for vendor meetings, Amazon Chime for formal meetings, and Skype for Business for quick calls and informal chats.
A VPN gives access to information while providing an access audit trail. Whether you are managing your own supply chain from home or acting as a supply chain manager for a company, Virtual Private Networks are necessary for internet security. Many companies build in layers of security by requiring employees to sign into their laptops, then into the VPN, and finally into a secure remote desktop.
Internet Portals for Supply Chains
Managing a supply chain from home also requires access to an internet-based portal. These portals allow clients to perform track and trace, monitor rates, and stay abreast of trade alerts.
Information is fluid in the COVID-19 supply chain world. A supply chain manager at a manufacturer might work from home, but the production team might work at a plant operating on a shorter workday. The manufacturer's suppliers also may work fewer hours and thus offer longer lead times for orders.
Shipping rates also remain in a constant state of flux. A shipper might base its rate on a two-to three-week lead time. But if COVID-19 restrictions extend lead times, shippers must requote their rates. Most pricing is only valid for 15 days during this crisis.
Access to accurate and up-to-date information from suppliers through a web portal helps supply chain managers accurately predict shipping rates and transit times to pinpoint the arrival of goods.
Video calls providing regular freight updates also aid in keeping supply chain managers and their partners informed. Weekly or biweekly video calls ensure all partners are aware of rate changes, changes to shipping schedules and lanes, and extended lead times.
Remote supply chain managers should take advantage of virtual software to share data with other employees and outside contractors. For example, supply chain managers notify warehouse managers when shipments increase to ensure the warehouse has enough personnel available when goods arrive.
Working with freight forwarding or 3PL providers that help keep supply chain managers up to speed by providing solid internet portals, regular trade alerts, and good old-fashioned one-on-one updates and advice is crucial to successfully managing shipping operations from home.
Policies Matter
If a company lacks a sound work-from-home policy, even the best technology platforms won't make your at-home workers successful. The same goes for individual shippers running their own small businesses.
The policy should address cybersecurity as workers access data from home and let employees know what is expected to keep data confidential and secure. Though many companies require employees to sign cybersecurity agreements when they start, they rarely revisit these agreements. Few employees understand the policy when they begin working from home.
Work-from-home policies should also address employer expectations, provided equipment, physical workspace needs, appropriate telework locations within the home, and regular working hours. Policies should also detail the internet speeds required for the required technologies to work effectively.
Remote work policies often overlook what employees should do when technical difficulties arise. Whom should employees call for help? Investing in remote desktop sharing software gives IT professionals access to employee computers when workers need support.
Finally, make sure the company policy addresses appropriate clothing and workspace backgrounds so employees are prepared for virtual calls and meetings. Companies that require business casual wear and neutral backgrounds ensure employees represent them well even when managing their supply chains from home.



Best Practices for At-Home Supply Chain Management
For many companies, the coronavirus made working from home mandatory, not optional. There are a few simple practices that make things go smoothly.
If possible, set up a workspace in a different area of the house, preferably a space with a door. This prevents interference from pets and children during the workday and lets employees shut out work in the evening.
Be proactive and get a head start on the next day by checking emails in the evening. For example, follow up on an email for a quote by asking the customer to supply needed information at the start of the day. Checking emails first thing also helps schedule the day ahead.
COVID-19 made working from home a necessity. Supply chain managers can make this transition seamless with the right tools, policies, work practices in place, and logistics partners that help keep them ahead of the curve when it comes to the markets and their upcoming shipments.