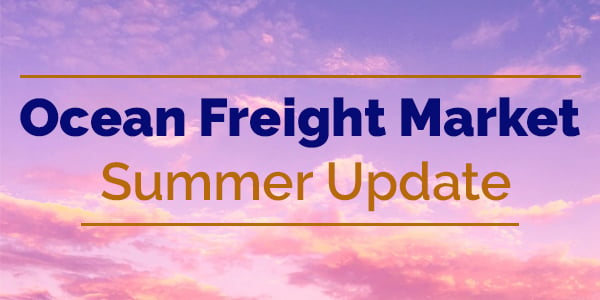 Are there calm waters or rolling waves ahead for shippers in Q3 and Q4 ocean freight markets?
You may be wondering why it's essential to stay on top of shipping markets like ocean freight rates. After all, it is what it is, right? Besides, your freight forwarder or 3PL provider handles it for you. This is especially true for 'small shippers' who don't have much leverage for bargaining or control over their situation.
While this is true in most cases, you should keep an eye on the different shipping markets because you'll know what you are paying for and be able to prepare for any eventualities. The better you understand the markets, whether it's ocean freight or air, the more likely you can predict them and use that information to your advantage.
There are a few significant advantages to this knowledge. The first is the ability to push back against carriers and NVOs when you know you're not getting a competitive quote. Next, is understanding the market landscape, and when chasing the cheapest rates might come back to haunt you. For example, in this current market, will my cargo get rolled and end up costing me more in the long-run if I penny-pinch?
How do you stay on top of the markets?
Getting the information you need isn't all that challenging. Communication and transparency are paramount, especially in uncertain times such as these, where the industry has seen astronomical rate increases due to the pandemic.
Let's look at a quick market recap before getting into predictions for the rest of the year.
Q2 Ocean Freight Market Recap
We've been riding a COVID roller coaster. Q2 was up and down with not enough POs getting filled to keep shipments moving. Because of this, steamship lines ordered over 100 blank sailings. Later in the quarter, when volume started picking up again, the carriers took advantage of the demand they created, and we've seen historically high prices. Airfreight rates have been affected as well.
Air cargo, which typically ranges between $2 to $3 per kilo, peaked out as high as $16 per kilo, which is easily a 500-600% increase. Ocean freight rates weren't much better, considering it's supposed to be the affordable method of product transport. Last year, we saw rates from Shanghai to Los Angeles at roughly $1,400 to $1,500 per 40-foot container. Amid the pandemic, shippers have been paying upwards of $2,800 per 40-foot container.
Shippers' transportation expenses have effectively doubled. If you are moving 20 containers per week suddenly, your transportation budget just took an unexpected hit to the tune of $30,000 per week. Having to tell this to upper management can be painful, so staying on top of the markets, which allows you to soften the blow ahead of time, is beneficial.
Summer Ocean Freight Expectations for Q3 & Q4
Just as it was looking like consumer demand was returning, businesses are shutting down again. So, the remainder of Q3 and Q4 markets will remain highly dependent on COVID. A significantly fewer amount of back-to-school goods moved, and now holiday goods are in question.
The questionable demand has created uncertain rate levels. The validity of rates has gotten shorter and shorter, with most providers only offering 15-day validity, 30-day validity at the max. If you are expecting long-term deals, it's not very likely that they'll stick. There is just no way for steamship lines to honor the rates they agreed to in March. Because of this, NVOs can't honor them either.
So, for the remainder of Q3 and moving into Q4, the ocean freight market will be capacity-based on the future bookings of larger shippers. The unknowns have created a unique dynamic, even for the carriers.
Calm Waters or Waves Ahead for Shippers?
With so many unknowns, there's likely to be a few rogue waves ahead. Consumer demand will dictate how the rest of the year plays out. Then it comes down to how quickly the carriers can adjust. Steamship lines have already canceled some of their blank sailings to adjust for demand, and we could see some extra loaders to help move rolled cargo.
Keep your eye on trade alerts so you can stay ahead of turbulent ocean freight markets and make adjustments, hopefully, before it detrimentally impacts your business. Also, be sure to open a line of communication with your shipping partners about any market updates they provide, if they haven't already.