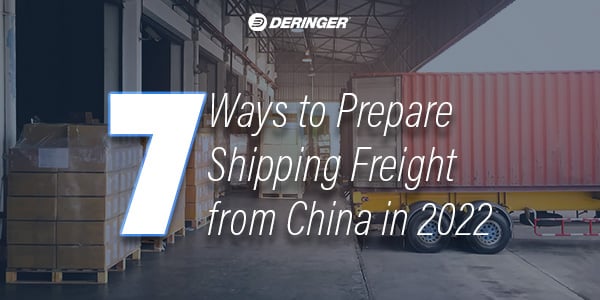 Experts call China's zero-tolerance COVID-19 policy good for the pandemic but bad for the supply chain—and nothing could be more spot on.
China shut down Ningbo, the world's third-largest port, just seven days into the year due to 30 COVID cases in a warehouse. The new year will certainly usher in more of the same: record infection rates, severe port congestion, and COVID constraints, with the Chinese COVID policy leading the way.
China's lockdown restrictions and mass testing requirements impact the country's manufacturing, trucking, and port logistics, disrupting production and transport and ultimately delaying exports—and the return of containers from overseas.
Freight brokers respond by moving shipments destined for Ningbo to Shanghai, the nearest alternative port, or using transcontinental rail and sea-air service to Middle East hubs to overcome delays.
As China clings to a COVID policy that curtailed earlier outbreaks, experts warn of more severe effects in 2022. They fear the policy will cause supply chain bottlenecks to grow as omicron outbreaks expand. Here are a few ways you can try to stay ahead of the curve during another tumultuous year for the shipping industry:
1. Focus on Forecasts
When chaos rules, shippers must focus on what they can control. In this unpredictable shipping climate, forecasting reigns as king.
The delays in Chinese ports won't change, but your response can. Forecasting makes life easier for logistics teams. When shippers know their business needs well, are aware of potential delays, and forecast far enough into the future, they can secure space in advance and navigate disruptions quickly.
2. Prepare a Plan B
Forecasting six months out is great, but having a Plan B won't hurt either. Even the best plans can go awry, and containers may get stuck in port. With forecasts in place, you can plan alternative responses just in case you need one. For instance, you may need to move your freight to the East Coast when West Coast congestion gets bad.
3. Secure New Suppliers
Another option is securing new suppliers. If a shipper currently sources a critical part from China, it's time to move at least some of that supply closer to home. A supplier in Latin America or Europe may supply that part, eliminating shipping through China entirely.
4. Break Up Bookings
Sometimes shipping is a roll of the dice. It's hard to tell if East Coast or West Coast congestion will be worse. When uncertainty rules the day, splitting bookings remains a viable option.
Let's say you want to move freight to a distribution center in Chicago. You can ship cargo to either the East or West Coast. When you cannot determine which route is faster, you can keep goods moving by sending half your cargo to the West Coast and the other half to the East Coast. If cargo gets held up in one port, the other port will probably keep goods moving.
Keep in mind that shipping to the East Coast takes 45 days versus the 30 days it takes to get to the West Coast. But West Coast port congestion has become so severe that this is a moot point. The best choice is shipping cargo to the least congested port.
5. Watch the Weather
In 2021, the world saw its share of natural disasters affecting global trade. Among the top catastrophes were:
Indonesia's Mount Semeru eruption in December
Tornadoes striking five U.S. states
Cyclone Tauktae hitting India
Flash floods in India and Nepal
Landslides in China
A typhoon in the Philippines
A 7.2 magnitude earthquake that shook Haiti
The New Year arrived with a bang as a tsunami struck the island of Tonga.
Weather is a factor you cannot control. But by always having a backup plan and keeping a watchful eye on the weather, you can keep cargo moving. Staying vigilant will buy you time to diversify shipping options and switch gears midstream.
6. Move by Air
Airfreight has always been a solid alternative. Shippers often rely on air cargo as a backup to move goods when ocean carriers cannot.
Airfreight can be faster than ocean transport, but COVID restrictions and congestion affect airlines too. Today, fewer flights are moving from Shanghai to Miami or Shanghai to Los Angeles. Restricted borders and COVID restrictions often keep planes grounded.
High rates also challenge air freight. Rates remain over $10 per kilogram, compared to $2 a kilogram in years past. These rates will stay high throughout 2022 because of ongoing disruption. If countries continue to welcome international travel, it will ease congestion and reduce air freight costs.
Related content: looking for more on air freight? This article highlights the distinct differences between shipping air and LCL ocean.
7. Pick a Logistics Partner
When times are uncertain and chaos reigns, it helps to have a knowledgeable expert on your side.
Shippers can connect with a logistics partner to develop an effective strategy for meeting demand as delays continue. These professionals have their fingertips on the pulse of global trade and can leverage their connections to keep goods moving as delays crop up.
Get Ready for Change
The United Nations Conference on Trade and Development (UNCTAD) estimates that 80% of global trade by volume and 70% by value moves via ocean. Of those numbers, UNCTAD reports 60% of maritime trade passes through Asia, with the South China Sea moving one-third of the world's shipping volume.
What happens in China does not stay in China. When cargo movement slows in the world's second-largest economy, it generates a ripple effect across the globe.
Knowing that the supply chain's current challenges will continue throughout 2022, it's best to start preparing now. Forecast well, develop a Plan B, find new suppliers, and watch the weather to keep goods moving whenever disaster strikes.