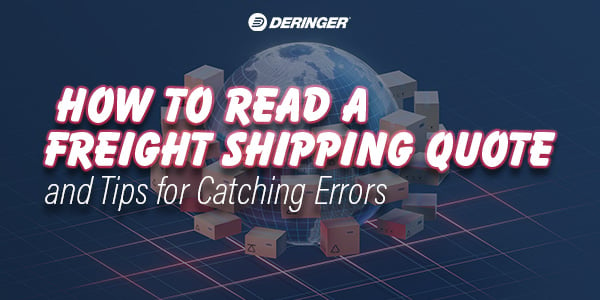 Knowing how to read shipping quotes is among the most important skills a shipper can have. But this is easier said than done.
Freight shipping quotes can be overwhelming and require volumes of information. But failing to read the entire contract and addressing finite details can cost shippers money and time.
Here are four tips to ensure freight is covered and shipping contracts are free of errors.
1. Select a Freight Provider
Before requesting a freight quote, you must assess your needs—including the type of freight provider you require.
There are four types of freight forwarders. Each one offers pros and cons and suits certain businesses better than others.
Freight broker: Freight brokers are matchmakers that connect businesses with the right carrier for their cargo. Shippers benefit because brokers find dependable carriers to transport their goods. Carriers benefit because freight brokers provide reliable shipping leads. These entities add a percentage to carriers' wholesale rates.
Pros:
Competitive prices.
Strong relationships with carriers.
Hands-on customer service.
Dedicated account representative.
Cons:
Shippers can become overly reliant on a freight forwarder's help and not develop their own expertise.
Price gouging is a risk when working with the wrong freight forwarder.
Freight brokers work best for shippers looking for competitive rates and hands-on customer service when shipping across the globe.
Online freight exchange: These social networks for freight forwarding, also known as freight exchanges, connect transport, logistics, and freight forwarding companies on the Internet. They also match businesses with carriers. Like brokers, freight exchanges add a percentage to carriers' wholesale rates.
Pros:
Quickly locate freight and transport offers and secure space for your shipments.
Real-time tracking of goods.
Cost-efficient.
Cons:
More expertise is needed in-house.
Shippers must navigate delays and shipping problems on their own.
If not careful, rates may be higher than a freight broker.
Independent nationwide or regional carrier: Shippers can collaborate directly with a carrier rather than with a freight broker or freight exchange. Carriers set the rates, which can be slightly higher than other options. But shippers can negotiate discounts.
Pros:
There is no middleman. Shippers work directly with their carriers.
Possible to negotiate discounts to drive down rates.
Cons:
Likely to pay more if volumes do not meet an agreed-upon threshold. Freight brokers get lower rates because they represent higher volumes.
Less flexibility with limited routes.
Capacity constraints of working with a single provider.
Independent nationwide or regional carriers are best for repeat shippers moving a high volume of cargo on nationwide lanes or specific regions.
Freight expediter: Freight expediters help shippers move cargo globally. These entities offer brokering and freight forwarding services. They make money by tacking on a fee to carriers' wholesale costs and charging for importing and exporting services.
Pros:
Assist with global freight shipping.
Offer brokering services.
Deliver freight forwarding services that include Customs documentation and coordinating cargo movement.
Cons:
Separate fees for import and export services.
Shippers can become overly reliant on their help and not develop their own expertise.
Rates can be higher.
Freight expediters work well for shippers who import or export freight.
2. Know the Difference Between FCL and LCL
Selecting the right freight provider is only the first step. Mistakes can happen when shippers do not know the difference between FCL and LCL.
FCL stands for full container load. The acronym pertains to shipments with one consignee in a single container, meaning other shippers' goods do not share the container. LCL describes loads that do not fill an entire container, or less than container load.
Freight partners and carriers prefer a full container load because it's easier for planning. FCL is also a better option for urgent shipments or shipments that must arrive by a set date. LCL works best for shipments with flexible dates, as these shipments can be more prone to delays because of the multiple handling they undergo in transport—but shippers may pay more for LCL than FCL.
3. Understand Incoterms
Failing to understand the Incoterms in a contract represents another common mistake. Shippers must know which Incoterms apply to their shipments and make sure a freight quote includes them before signing a contract.
Incoterms are international trade selling terms that the buyer and seller agree to. Governments and legal authorities across the globe accept these rules. Selecting the right term is vital when trading internationally because the rules define who is responsible—buyer or seller—for specific tasks, costs, and risks.
Eleven Incoterms exist. Not all will apply to every situation. Selecting the right ones is a crucial step toward a seamless shipping experience.
Ex Works (EXW). The seller handles freight until it's loaded on a vessel. The buyer assumes responsibility from that point forward.
FCA (Free Carrier). The most popular Incoterm, used in 40% of international trade operations. Allows you to note the delivery destination of goods, whether it is a port, an airport, a container freight station, or the seller's address.
CPT (Carriage Paid To). The seller pays carriage costs to a destination agreed upon by both parties.
CIP (Carriage and Insurance Paid To). The seller pays freight and insurance until delivery to the first carrier. When the carrier assumes control, the buyer takes on all risks, but the seller must cover carriage costs and provide all-risk insurance until freight reaches its destination.
DAP (Delivered at Place). This Incoterm replaced DAT (Delivered at Terminal) in 2020. It allows the buyer to determine the place of delivery, which can span beyond the terminal. Here, the seller assumes all risks until the shipment arrives at a predetermined destination.
DDP (Delivery Duty Paid). The seller bears all responsibility for the cost of the shipment, duty included.
FAS (Free Alongside Ship). Implies that the seller has delivered the shipment once they place it alongside the pre-established vessel.
FOB (Free on Board). The seller must deliver goods on board the vessel of the buyer's choosing at their named port. The responsibility for loss or damage transfers from seller to buyer once goods get loaded on a vessel.
CFR (Cost and Freight). The seller pays all costs and freight for the shipment up to the named port of destination.
CIF (Cost, Insurance, and Freight). The seller covers CFR and minimum insurance coverage on freight up to the port of destination.
4. Avoid Key Mistakes to Reduce Potential Costs
Avoiding common mistakes drives down costs and ensures accountability. Shippers can address unclear language, incomplete or incorrect information, or small but necessary details during contract negotiations, but the onus falls on them once the contract is signed.
Importers must supply correct HTS classifications for import entries and/or importer security filings. It's a shipper's responsibility to provide this information to freight forwarders unless they contract for classification services. Inaccurate information can cause problems later.
Shippers must also provide the correct weights and dimensions of their cargo. All product descriptions must be detailed and accurate and include quantities and values. Wrong Country of Origin declarations and invalid Certificates of Origin can also hold up goods in port.
Working with a freight partner that delivers Customs clearance and freight forwarding services helps shippers avoid these issues. Shippers can partner with freight brokers, online freight exchanges, independent nationwide or regional carriers, or freight expediters. All are good choices, but be sure to match your freight partner to your business and cargo. Having one freight partner streamlines shipping and makes accountability easier to track.
Selecting the right freight partner, knowing the difference between FCL and LCL, understanding Incoterms, and avoiding common contract mistakes prevents shipping headaches down the road and ensures that your goods will get exactly where you want them to go.