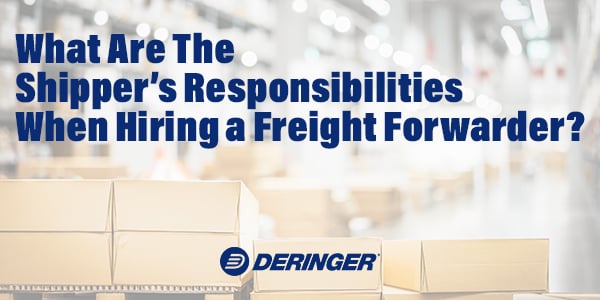 In international trade, the question of who does what is often answered with a solid "not me." But a "not me" answer can lead to added costs or stranded shipments. It's important to know who is responsible for which parts of the shipping process before hiring a freight forwarder.
A freight forwarder helps companies move products from Point A to Point B. They arrange air or ocean freight and truck or rail transport and act as both a broker and intermediary between shippers and carriers.
Overall, freight forwarders handle:
Organizing the shipping of goods, including packing, mode of transport, and best route.
Negotiating carriage terms with carriers. They also book cargo space and make payments.
Managing customers' clearance procedures, transport documents, and insurance paperwork.
Monitoring and communicating shipment status in real-time.
Making sure carriers deliver shipments as planned and resolve issues when they don't.
Though freight forwarders perform many tasks, companies need to understand their own roles. Freight forwarders can move shipments, prepare correct documentation, and keep shipments compliant with Customs, but they cannot do this effectively without the right information.
No. 1: Know What You are Shipping
It's important to be specific about the goods. This information affects the carriers you work with, the choice between ocean or air freight, the shipping container used, and the cost and time to ship goods. Certain commodities must meet specific Customs regulations—for example, the rules for food differ from those for firearms, and the rules that apply to raw lumber differ from finished furniture.
No. 2: Know Your HTS Codes
HTS codes are used to classify and define internationally traded goods. To import or export internationally, goods must have an HTS code that corresponds with the Harmonized Tariff Schedule of the country of import.
Importers must supply the correct HTS classifications on import entries and/or ISF security filings. Companies must provide this information to freight forwarders unless they pay for classification services. This service can be worthwhile; it's critical to report accurate information to Customs and avoid relying on third parties to provide HTS classifications on your behalf. You can look up HTS codes here.
No. 3: Know the Weight and Dimensions of Your Shipment
You must supply freight forwarders with exact specifications about what you plan to ship, the quantity, the dimensions, and your dimensional DIM weight. DIM weight is a pricing technique for commercial freight transport that uses an estimated weight calculated from a package's length, width, and height.
Air carriers base freight prices on weight and size, while ocean carriers calculate prices on size. You can expect to pay more for heavy shipments like agricultural equipment or cars.
No. 4: Understand your Incoterms®
Incoterms® are selling terms that the buyer and seller of goods agree to in international trade. Understanding Incoterms® is vital when trading internationally because the rules define who is responsible—buyer or seller—for specific tasks, costs, and risks.
For example, Delivered Duty Paid (DDP) requires the seller to arrange carriage and delivery of goods to a destination, clear goods for import, and apply applicable taxes and duties. Risk transfers to the buyer once goods arrive and are available for unloading. But with Free Carrier (FCA), the seller holds responsibility for packaging and loading goods at the port. The buyer then ships goods, unloads them at the buyer's port of choice, and transports goods to the destination.
No. 5: Know the Correct Country of Origin
The Country of Origin refers to the country of manufacture, production, or growth. Just because a product ships from Mexico doesn't mean Mexico is the Country of Origin. Simply shipping a product through another country does not change its origin. It's not enough to just inform Customs about the Country of Origin. Companies must show they did their due diligence to correctly list the Country of origin.
No. 6: Know Where Goods Will Go
When working with a freight forwarder, it's important to share information about where you are shipping from and where goods will go. Determine if you want goods shipped door to door, door to port, port to port, or port to door.
Understand area shipping requirements. Don't leave out the minutiae of the pickup or delivery destination. A residential area may not allow semi-trucks. A business lacking a loading dock or space to turnaround also limits pickup and delivery.
Provide addresses for pickup and delivery to get an accurate price quote. If you're shipping from port to port, inform the freight forwarder of the ports to pick up and drop off goods.
No. 7: Understand Hazmat Requirements
Do your goods qualify as hazardous? Hazardous goods require specialized shipping.
The International Maritime Dangerous Goods Code offers guidelines for safely shipping goods on a vessel. The International Civil Aviation Organization standardizes safety procedures for shipping dangerous goods by air.
Some goods require following specific rules and regulations. For example, airlines prohibit lithium batteries as cargo on passenger aircraft; only cargo aircraft can carry lithium batteries. Trucking transporters treat lithium batteries as fully regulated dangerous goods and require shippers to follow specific rules for shipping.
UN numbers dictate the containers used to ship and store hazardous materials. Shippers must determine the UN Rating necessary for the containers shipping their goods.
No. 8: Provide a Commercial Invoice and Packing List
These detailed documents provide product and packaging details for each shipment. Shippers must create a compliant packing list document to share with freight forwarders, shipping lines, importers, and other parties along the supply chain.
An export packing list outlines seller, buyer, shipper, invoice number, date of shipment, mode of transport, and carrier. This document also itemizes quantity, description, and packaging types, such as a box, crate, drum, or carton. It's also important to detail package quantities, total net and gross weight, and package marks and dimensions. Write all documentation in English.
A freight forwarder's job is to help shippers get their goods from Point A to Point B, but without accurate information on hand, you may enter a shipping nightmare that ends up costing you money.