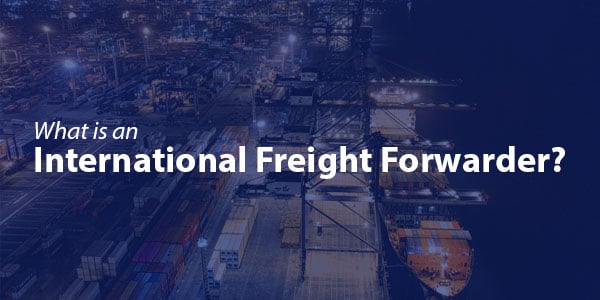 The heart of world trade is the import and export of goods, and international freight forwarders manage the pulse of this process.
Put simply, an international freight forwarder is like a travel agent for cargo. Forwarders coordinate transportation details between international sellers and buyers so that goods get to where they need to go.

In this post, we'll discuss aspects of freight forwarding and dive deeper into the most commonly asked questions about our field.
What is the Difference Between Freight and Logistics?
The term "freight" refers to the method through which the goods are moving. It's meant to broadly refer to cargo being shipped through various means, for example, by air or sea. On the other hand, logistics is the methodology used to get the goods from point A to point B. International freight forwarders and 3PLs manage logistics, or the flow of goods in a supply chain, from transportation to warehousing and planning to value-added services.



What are the Different Types of Freight?

Again, freight refers to the method used to ship goods and does not explicitly refer to the types of goods being shipped. This can be confusing to those new to the freight business, but it's essential to differentiate goods from methods. For instance, computers would refer to the type of goods being shipped. But if those computers were shipped using a train, we would consider the computers to be rail freight.
There are four standard types of freight:
Air Cargo (airplanes)

Ocean Freight (cargo ships)

Rail (trains)

Road (trucks)
How Do Freight Forwarding Companies Work?
It's important to note that in most cases, international freight forwarders do not own the steamships, airplanes, or trucks that they use to move cargo and freight around the globe.
This brings us back to the travel agent analogy. Even massive players in the freight forwarding game do not operate their own cargo vessels. Instead, they act as go-betweens for multiple parties involved in exporting and importing goods.
Working with a freight forwarder simplifies matters for the importer or buyer because the forwarding company, just like a travel agent, manages the responsibility of being the main point of contact throughout the entire process.
The freight forwarder manages the transport's details from start to finish, tracking the cargo vessel's arrival and contacting trucking or airline companies to ensure timely pickup and arrival. The freight forwarding partner coordinates these details and communicates to clients accordingly. Typically, the process of freight forwarding unfolds in ten phases.
The Freight Forwarding Process in a Nutshell:
Determine Credit

Establish Mode of Transportation

Determine Weight and Dimensions or Containers Needed

Review Documentation

Schedule Transportation

Cut Bills of Lading

Monitor the Cargo's Movement

Contact the Notify Party When Cargo Reaches Destination

Arrange for Delivery to Final Destination

Invoice the Client
Related Content: Maximize Profits Using Containers
First, an international freight forwarder will establish a client's credit. Next, the forwarder will inquire about the particular transport mode of interest, delivering via ocean, air, road, or rail. Then they will identify the cargo, specifically its weight and dimensions if the cargo is less than container load (LCL), or they will identify the size and type of container in which goods will be shipped for full container loads (FCL).
From that point, the forwarder will determine rates and review documentation. Currently, it should be noted that the validity of rates is quickly changing due to COVID-related market fluctuations. The forwarder should review all relevant documentation received from suppliers or sellers and will troubleshoot if any information is erroneous or missing. Once everything is in order, the forwarder will create or "cut" the House Bill of Lading and Master Bill of Lading and schedule the transportation of goods.
Once the shipment reaches Customs, the forwarding partner will contact the Notify Party. This party may be the Customs broker, Importer of Record, consignee, or the importer. Once the cargo clears Customs, the international freight forwarder will arrange the last leg of shipping and invoice upon delivery, unless other payment arrangements have been made.
We are experts in international freight forwarding and would be eager to answer any additional questions you may have. In particular, we are uniquely positioned as an international freight forwarder and a Customs broker to help you save on document transfer fees easily. When you're ready to move your goods, please contact Deringer at (888) 612-6239 to speak to one of our highly qualified logistics experts.