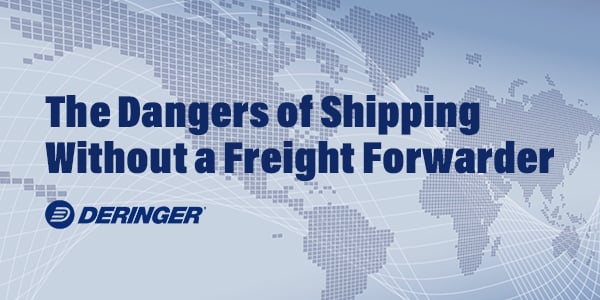 When you want to take a trip, you jump onto a travel agency website to book your flights, transportation, and accommodation. It's easy to think you can do the same with your imports and exports.
However, while you can arrange a vacation online, it's more difficult to schedule international freight with ocean or sea carriers without a middleman. But that's what many companies try to do to save time and money.
Even when it's possible to arrange freight transport without a freight forwarder, it is a risky game for non-specialists to play. A lot can go wrong when transporting freight—and they often do.
Companies can cover their bases by contracting with a good freight forwarder and investing in freight insurance. Freight forwarders connect shippers with carriers and other providers to transport goods, then follow the goods throughout their journey. And freight insurance provides financial protection for cargo losses during transport.
Lack of Clout
Small businesses lack clout with carriers who won't give their freight priority. Carriers charge these customers higher rates and let their shipments sit longer in port.
Consider the exporter who wanted to conduct his own shipments. This exporter arranged his freight and dropped his shipments off at the airlines himself. He waited in line for hours behind truckers also waiting to drop off freight. He waited longer than these transporters because he lacked clout with the airlines.
The exporter could have skipped to the head of the line with a freight broker. A freight broker acts as a middleman between shippers and carriers, making sure freight drop-offs go smoothly, carriers handle cargo safely, and freight arrives on time.
Freight brokers maintain an expansive carrier network and represent millions of dollars in business to carriers. Their buying power nets them volume discounts that can lower shipping expenses, and they have ready access to a capacity that is unavailable or very costly to an individual company.
Lack of Knowledge
Companies often believe all they need to do is arrange shipping to export goods. Those same companies later find themselves in hot water over their lack of knowledge. Carriers hit them with hidden charges, and then their goods sit in port because these companies have not provided Customs with certain required documents.
In some countries, shippers need a notarized legal document from the consulate for their goods. Companies may not know where to obtain that legal documentation. And even if they do, getting a document notarized takes time that shippers lack.
Hiring a freight forwarder gives companies access to document specialists. A single shipment may need a Bill of Lading, a commercial invoice, a Certificate of Origin, inspection certificate, export license, export declaration, and an export packing list. Correctly preparing these documents avoids Customs delays and fines.
Freight forwarders keep up to date on current Customs regulations for every country they work in, know how to prepare the necessary paperwork, and calculate and pay required tariffs and taxes.
Failing to Understand Incoterms
®
Shippers going it alone often do not fully understand Incoterms®—and that can cost them money.
Incoterms® are a set of rules and regulations that outline the rights and duties of the legal entities involved in transferring goods. Incoterms® rules define international terms of sale. Shippers must understand these rules to identify whether buyers or sellers bear specific costs and responsibilities.
Because Incoterms® are complex, selecting the right one for your shipment requires the support of a knowledgeable expert. A freight forwarder can help you nail down landed costs by choosing the correct Incoterms® rule for your shipments.
Fees and Legal Issues
Shipping without the guidance of a freight forwarder can lead to shipping mistakes, resulting in fees and legal issues with Customs.
Consider a customer importing goods covered by FDA requirements. Little things like the shipment entering the United States after hours can put a shipment on hold until the next day. Medical devices and food also come with a host of specialized processes to follow. Failing to follow the rules leads to added Customs fees and legal issues.
Antidumping duties remedy the effects of imports sold at less-than-fair market prices. Companies importing a product subject to antidumping fees must calculate those costs and post a bond to cover them before importing the goods.
Incorrectly calculating antidumping fees can require a shipper to take out another bond to cover them. Meanwhile, Customs can hold shipments at port until the importer files a new bond; ports can tack on demurrage charges while the shipment sits; and Customs can inactivate a continuous bond, requiring importers to acquire costly single-transaction bonds for every shipment.
An experienced freight forwarder maintains a network of Customs brokers who can assist with meeting Customs regulations and procedures. When trouble arises, they can expedite Customs clearance to avoid costly charges and legal issues.
Why go it alone when a freight forwarder can help? A freight forwarder secures better rates, guides your shipping, enables you to comply with Customs regulations, and navigates a wide range of issues that may otherwise take you by surprise.