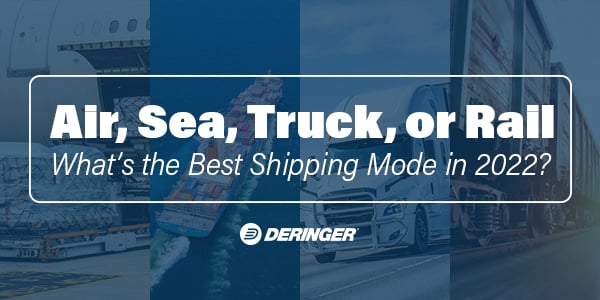 Selecting the best shipping mode is difficult in the best of circumstances. But it's become even tougher in a market rife with skyrocketing rates, blank sailings, congestion, and delays.
Shippers can draw on four main transit types to move goods from Point A to Point B:
Air Transport: Move freight quickly to almost any large city in the world.
Ocean: Economically ship goods across the sea when importing and exporting.
Truck: A standard transport method for small- to medium-sized goods moved across land.
Rail: A convenient way to transport large goods sustainably and cost-effectively.
Each type of transport comes with pros and cons. It's important to know how these factors may impact your shipments. Weigh the costs of each transport method – and the value, size, and weight of the goods you plan to ship – before choosing a transport type.
Additionally, factor in current market trends, such as port congestion, escalating rates, labor shortages, etc. These challenges can also determine the best choice for your situation.
Air Shipping
Air freight will move approximately 69.3 million metric tons of goods in 2022. Robust e-commerce trends and an increase of planes in the air fuel this trend. Air cargo has become a critical transport mode as the globe faces supply chain challenges. It serves the demand for speed, flexibility, and efficiency.
Transporting goods by air comes with key benefits:
It's the fastest form of transit, making it ideal for urgent, time-sensitive parcels and small- to medium-sized cargo.
It gets handled less, and regulators require less documentation.
Security is top of the line, making it a great option for expensive cargo that meets size limitations.
Airlines maintain tight schedules with few delays.
But shipping by air also comes with drawbacks:
It relies on consistent passenger flight schedules, which, though back to normal now, were decimated by restrictions during the pandemic.
It normally costs more in a typical market.
It comes with size and weight limitations. Regulatory bodies limit what airlines can and cannot transport. Lithium batteries and oddly shaped or extremely bulky items cannot move by air.
Air freight may be best if you are looking for a speedy and reliable delivery with minimal risk.
Ocean Shipping
Ocean carriers transport cargo by boat in standardized containers. Ships can move massive quantities of goods cost-effectively. But ocean freight rates and delays are growing as fast as ocean deliveries, causing companies to think twice before shipping by sea.
Still, ocean freight offers key advantages:
It typically offers the most competitive rates. It is estimated that rates are four to six times less expensive than air.
Allows shippers to move goods on a global scale, especially if time isn't critical.
Transports full container load (FCL) or less-than-container load (LCL) shipments, depending on the quantity and dimension of goods.
Excellent for oversized, heavy, and bulky cargo.
Safest when shipping hazardous materials and dangerous cargo. Ships can carry these goods safely, and carriers seal and lock containers during transport.
It's more environmentally friendly than other transport modes. Ships produce fewer grams of exhaust gas emissions for each ton of cargo than other shipping methods.
But shipping by ocean also has drawbacks:
During the pandemic and with the surge in demand post-pandemic, many countries sent out all their containers to get cargo to the West as fast as possible. Now there is a container imbalance. Some ocean carriers are shipping empty containers because they receive more for them than full containers.
Rates are escalating. Companies once paid $1,500 to ship a 40-foot container of cargo by sea from Shanghai to the West Coast. Now shippers drop $10,500 for the same service.
Longer transit times persist. Traditionally, ships took 15 days to reach the United States. Now it takes 30-45 days to get to the West Coast and 60 days to reach the East Coast.
Reliability has plummeted. Sea Intel reports schedule reliability has dropped to 33.6%.
Port congestion delays shipments. Vessels wait two weeks or more to unload at the busiest U.S. ports.
China's COVID-zero policies impact ocean shipping. At least 27 Chinese cities remain under full or partial lockdown, affecting top ports in Shanghai and Shenzhen.
Capacity shortages, congestion, and delays will continue, which will increase blank sailings.
The ocean freight industry faces unprecedented and chaotic conditions from port congestion, container shortages, delays, and labor shortages. Exploring your shipping options and moving time-sensitive items via other transport modes is vital.
Ground Shipping
Ground shipping is an umbrella term that covers both rail and road transport. Trains carry cargo in large, standardized shipping containers, while trucks move goods via less-than-truckload (LTL) or full truckload (FTL) shipments.
Each transport mode offers key advantages.
Rail advantages include:
Fewer issues with congestion than ports.
Railroads represent the most efficient land transport; one rail car can haul as many as 400 trucks.
Rail works well for longer journeys and is less expensive than trucking. The point of cost neutrality between rail and trucking is around 130 to 150 miles.
Safer transport with an excellent safety record.
It helps ease road congestion and lower emissions. Trains burn less fuel per ton-mile than trucks.
Drawbacks to rail include:
Rail freight routes and timings are inflexible. Railroads will not adjust schedules to individual requirements.
With only one way in and one way out, shipments may get stuck when issues arise.
Rail dwell time has increased from seven days in 2020 to nine days in 2022.
Railroads struggle to hire enough laborers to meet demand.
Rail is a cost-effective, safe mode of transport, but shippers must plan for delays in the current shipping environment.
Trucking advantages include:
Great for moving goods across the United States. Truck transport is flexible, reliable, and cost-effective.
Various delivery methods are available for local, over-the-border, long- or short-haul deliveries, even in rural areas.
Trucking allows track and trace of cargo and the truck.
Complete door-to-door service.
However, trucking also has drawbacks:
Truck size limits the size and weight of cargo.
Delays occur with severe weather, poor road conditions, and excessive traffic congestion.
Consider the benefits and drawbacks of trucking and rail before choosing one over the other.
How to Choose the Right Shipping Mode in 2022
Every organization and every shipment has differing needs. It's vital to consider a few factors when considering your shipping mode.
Type and Quantity of Freight: The type and quantity of freight can dictate transport mode. For instance, shipping hazardous goods or massive construction equipment via plane may not be feasible, nor does it make sense to ship goods you need right away via ocean carrier.
Consider Quantity, Size, Weight, Dimensions, and Specific Loading/Transportation Requirements: Shippers may prefer ocean freight for oversized or hazardous goods, whereas air makes sense for smaller items. Heavier goods should ship via rail as roadways limit the weight trucks can carry. These are just a few examples of things that impact transport.
Time is of the essence with liquids or perishables. Here, steer away from ocean freight and move goods via air or truck.
Ship valuable goods, such as electronics, via truck where track-and-trace is possible, or via ocean, which transports goods via locked and secure containers.
Speed: Shipping speed matters when you need goods right away or goods are perishable. Air freight makes sense, but be aware of congestion in the current market. You might opt to truck large, heavy, or time-sensitive goods. This keeps costs low and expedites shipping.
Flexibility: In many shipping situations, flexibility is non-negotiable. For instance, you ship often and need goods regularly, have specialty goods with specific requirements and regulations, or ship to and from various locations. Truck transport may be the most flexible option, even if only to transport cargo to and from local airports and rail yards.
Cost: It's vital to balance all other factors with cost-efficiency. The top consideration is to move goods quickly if cargo is valuable or perishable. But if there is no rush, choose the most cost-effective option. For example, move perishable fruit via air, but move bulky construction equipment via sea.
Final Thoughts
As shipping faces skyrocketing shipping rates, blank sailings, congestion, labor shortages, and delays, it's become even tougher to pick the right transport mode for your goods.
Make sure you forecast accurately and book space early. Consider using several transit modes and break up shipments to ensure at least some cargo arrives on time. And use a freight forwarder to guide your decisions. These entities are intimately familiar with the shipping climate and can leverage their carrier relationships to move goods efficiently.
Storms will rage in the 2022 shipping climate. But when you know your shipping options, forecast well, and work with a logistics partner, you can tame the seas to keep shipments moving.