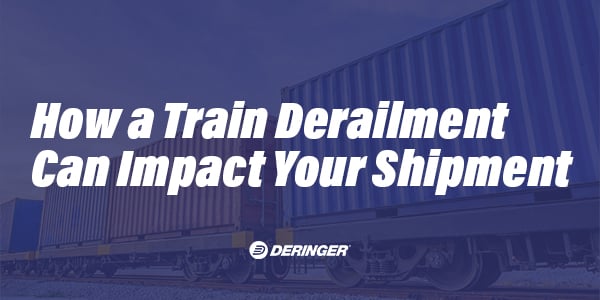 Train derailments happen more often than one might expect, with several occurring globally every month. While not every derailment affects freight, when they do, disruptions are massive.
In March, a Union Pacific freight train derailed in California, shooting 13 cars full of lumber off the rails. The derailment delayed delivery of the lumber and restricted freight deliveries up and down the line until crews cleaned up the tracks.
Shippers must reroute their goods—if they can—when cargo gets delayed after a freight train derails. But cargo often gets stuck inland until blocked tracks are cleared. Then, congestion grows at already strained train terminals, with containers piling up and slowing all freight moving through the railyard.
When shipping by train, make sure to have a backup plan. The only way around train derailments is a secondary route.
Benefits of Rail Freight
Rail shipping connects inland ports within the U.S. and Canada and represents a vital part of every supply chain. Derailments aside, rail freight offers key advantages—especially cost.
Rail transport is significantly cheaper than trucking. Moving freight from Houston, Texas, to Cleveland, Ohio, for example, might cost $5,000 per load via truck. On the surface, rail transport may appear more costly at $6,000 per car. But it's significantly cheaper because one railcar holds up to four truckloads. With trucking, shippers also pay for fuel, fees, tolls, and labor.
Rail systems can also move hundreds of containers at once, significantly lowering the cost per load. The transport mode is up to four times more fuel-efficient and emits 75% fewer greenhouse gas emissions, making it a more sustainable choice.
Flexible rates and schedules make rail an attractive option that works well when moving volumes of freight over long hauls. However, frequent rail stops mean it may take longer to receive goods.
Impacts of Current Freight Market on Rail
During hearings in March, federal regulators discovered that rail freight isn't as efficient as it once was.
The hearings examined why rail capacity has tightened. Railroad operators attributed congestion to factors outside their control, including broader supply chain issues and widespread labor shortages.
Media reports say railcars made 26,000 deliveries in 2021. Experts predict this number will increase to between 46,000 and 49,000 deliveries in 2022. Like other modes of transport, pent-up demand was released as pandemic restrictions ended, leading to rail congestion. Experts say demand will eventually self-correct, sending shipping volumes back to normal levels.
In the meantime, rail rates are rising as railroads deal with shipping surges amid congestion and labor shortages. Shippers can expect to pay more and experience lower reliability and slower turns—these factors compound when train cars derail.
Addressing a Train Derailment
Shippers cannot fully prepare for train derailments. No one knows when disruptions like this will happen, but they jolt the entire supply chain when they do.
Most rail lines offer one way in and one way out. If a train stops or a derailment blocks tracks, shipments get stuck. When trains cannot move, things back up quickly. A single train holds around 6,000 containers per ride, with many trains making up to several rides per day. A blockage stops movement completely.
Worse, if items get stuck inland, their export will be blocked or delayed once they arrive in port. Shipments sit at port terminals, adding to existing congestion. Ports lack space to hold delayed containers and issue detention and demurrage fees, increasing shippers' costs to keep them moving.
Waiting it out may be the only solution for a train derailment. But sometimes, it's possible to discharge cargo and move it on another—typically longer—route. For instance, a shipper might discharge cargo originally moving from Vancouver to Chicago from Seattle, then move it to Los Angeles, then send it to Chicago to circumvent a derailment.
The best thing shippers can do to keep cargo moving is plan for the unexpected. A stalled container costs money. Shippers should keep the following in mind:
With two purchase orders, consider alternative routes for each.
Split shipments into two routes. If companies ship cargo to the East and West coasts, move it inland via rail; half of the shipments still arrive on time if a train derails.
Diversify with weekly shipments. Shippers cannot forecast a derailment, and it's difficult—if not impossible—to switch lanes midstream. A shipper might have several items out for delivery before they can alter their shipping pattern. When you diversify loads, some goods will still arrive on time.
Shippers with the flexibility and the funds can schedule cargo on two different routes and opt for two transport options. That may mean shipping cargo via truck and rail.
Final Thoughts
Shipping by rail is an attractive and cost-effective option. It's also four times more fuel-efficient and an environmentally-friendly choice.
But when problems arise, the disruption to freight movement can be significant. It's best to prepare by splitting cargo into different routes and transport types.
A freight forwarder also can help forecast and adjust shipping patterns to diversify and protect against unplanned accidents.