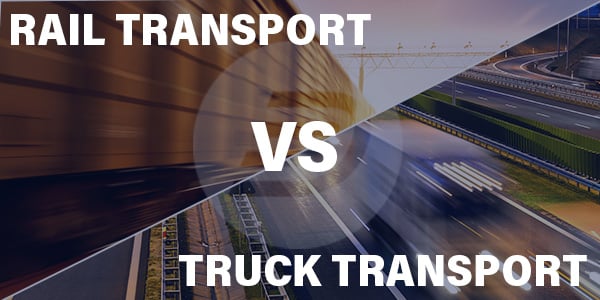 When moving cargo within a country, shippers have two choices: rail or road. Each has its pros and cons. But in today's turbulent transport environment, the route that appears the easiest and most direct may not always be the most cost-effective or efficient.
Today, unprecedented cargo volumes strain the resources of carriers, terminals, trucking firms, and rail systems. Choosing between rail and trucking for inland transport now boils down to one simple question: which option can get your cargo where it needs to go?
Current Freight Distribution Challenges
Before diving into the pros and cons of rail and trucking, consider the current market challenges. Often, day-to-day market forces will dictate the transport used.
Cargo might move efficiently across the ocean, then sit in a congested port for weeks. Port congestion remains a tremendous problem. Southern California ports reached a record 109 vessels waiting for a berth in January. Though the number has since fallen to 48 ships, it's likely to swell again once shipping enters its peak season.
Equipment and labor shortages at the terminal compound the problem. Ships may wait for weeks to unload, and once on dock, containers wait an average of 5.4 days for pickup. Often, truck drivers sit idle as they wait for a chassis to become available. The average truck turnaround time has soared from 58 minutes to several hours in the Los Angeles-Long Beach port complex alone.
The trucking industry is working to manage labor shortages, improve working conditions, increase wages, aggressively recruit drivers, and offer enhanced benefits. In the meantime, available drivers remain in short supply. The shortages are most prevalent in Middle America, with places like Kansas City, Chicago, and Ohio Valley facing a dire shortage of drivers.
Rail, on the other hand, fares a little better. Congestion plagues rail terminals at ports and inland. Congestion can delay when cargo gets loaded into rail cars for transport. In response to inland congestion, many rail yards now limit the number of containers that can move inland when depots are full.
This can cause challenges for carriers, who prefer to keep containers at ports where they can refill them and ship them out quickly. When containers move inland, carriers may wait 60-80 days before containers return, grinding shipping to a halt.
Amid all this, shippers must choose between truck and rail transport, and both options offer their own unique set of positives and negatives.
The Pros and Cons of Shipping by Rail
Rail shipping connects inland ports within the U.S. and Canada and represents a vital part of every supply chain. Shipping by rail:
Is up to four times more fuel-efficient
Emits 75% fewer GHG emissions
Can transport up to four truckloads in one rail car
Is cheaper for long hauls, but frequent stops can add more time
Is best when moving large volumes of freight across long distances
But rail transport also carries a few cons. Shipping by rail is:
Heavily reliant on ocean carriers who give poor visibility into shipments
Constrained by port congestion, as cargo can wait up to a month in congested ports like LA before it moves
Impacted by "metering," where rail companies limit the number of containers that can move inland when inland depots are congested
The Pros and Cons of Transport by Truck
Truck transport works best for short distances and smaller loads. Trucks can load and unload quickly and operate efficiently. Shipping by truck:
Is cost-effective when freight is moving short distances
Offers predictable schedules by transporting goods where they need to be in just a few days
Is better for perishable foods, medicines, and other sensitive products
Offers just-in-time delivery and door-to-door service
Offers team driving, which keeps drivers within ELD limits and cargo moving
But truck transport also carries a few cons. Shipping by truck:
Is more expensive than traditional rail
Requires more handling of goods as containers must be unloaded and reloaded onto a truck
Is less convenient now, as many truck transport firms now require a 30-day notice for arriving loads
Choosing Between Rail and Truck Transport
Ultimately, the decision between truck and rail depends on the cargo you plan to move. Answering the following questions will help guide your decision.
How fragile are my goods? You may not want to move a fragile shipment by truck as it increases cargo handling. A single container represents up to four truckloads. Thus, workers unload goods from their containers and put them into trucks.
How heavy and how large is my shipment? Weight and size also affect transport. State regulations may prohibit shipping goods by truck when weight and size exceed certain limits.
How quickly must cargo get to its destination? Trucking may get goods to their destination within a few days. But with rail, cargo may sit for 30 days at the port terminal before getting loaded onto a railcar. However, if your shipment isn't time-sensitive, using rail can save you money.
How might the current market and congestion impact my route? Heightened congestion in port and inland, equipment and labor shortages, and other factors can affect how fast goods move. These conditions change quickly. It's vital to monitor current conditions as you choose between rail and truck transport. Whatever the conditions, when shipping time-sensitive products, choose full-truckload shipping.
The best strategy in a chaotic shipping environment is to follow the market. Many factors can affect your choices, but you can adjust your plans accordingly when you forecast based on market trends.
A freight forwarder also can help you navigate your shipping journey and choose the right transport option for your freight. Freight forwarding professionals are familiar with current market challenges and have the logistics infrastructure and partnerships to make quick turnarounds to avoid unnecessary delays.