If you believe knowledge is power, then partnering with your broker in the Broker-Known Importer Program (BKIP) is your answer. As an importer, you are required to provide detailed information regarding your goods when bringing them into the United States. Software and electronic communications are available in the marketplace to make the Customs clearance process more seamless and efficient. However, importers can also participate in voluntary programs to help prevent delays in the Customs clearance of their goods.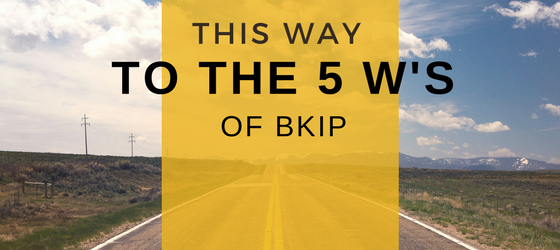 Through improved communications, CBP and your Customs broker can increase the speed of your entries clearing Customs, but your broker needs to know EVERYTHING about your goods and make it known to Customs.

WHO?
The program is driven by the National Customs Brokers and Forwarders Association of America, Inc. (NCBFAA). U.S. Customs and Border Protection (CBP) supports this initiative because of its benefits to all parties.
Who is eligible?
U.S. Customs brokers together with their known importers, that's YOU, can participate in this voluntary program! If you've been working with your broker for some time, and you are a compliance driven importer, then this program might increase the pace of your goods through Customs.
WHAT?
Through an in-depth interview process, brokers assess your compliance with various importer regulations. An interview guide, like the one found on the NCBFAA website, will be reviewed with you. The responses will be recorded, dated, and signed off, and a regular review schedule will be established.
Your Customs broker will keep a record of all documentation and discussions to provide evidence of the Broker-Importer relationship.
Finally, you'll be asked for approval to commence transmission of the indicator in the Automated Commercial Environment (ACE).
WHY?
Why should you do this? It's simple really - partnering with your broker tells CBP that your broker knows you and your goods. It signifies through ACE that you understand compliance requirements as an importer, and understand any and all duties, declarations, valuations, and Intellectual Property Rights (IPRs).
Involvement with the program factors into CBP's cargo risk segmentation. Why is this important? It means that importers will likely benefit from improved trade flows because of information sharing at the time of arrival.
Involvement in various Trusted Trader programs, such as ISA and CTPAT, means you should expect:
Fewer exams at the border
Mitigation if you should be fined by CBP
Better control over your compliance
Importers can expect to see some changes starting in 2018 to improve entry processing and compliance through Trusted Trader programs.
WHERE?
There is no "where" - any U.S. importer known to the broker is eligible to participate.
WHEN?
There is no time frame. It is an ongoing program, and importers can voluntarily engage at any time. It might be that your broker approaches you and asks you to participate. Those who are already conducting the Importer Self Assessment (ISA), or participating in the Customs Trade Partnership Against Terrorism (CTPAT) program, and have an established compliance program, may be asked by their broker to participate.
A special bonus for you: HOW?
How do you get started? You can start by:
Reviewing the Interview Guide and Questions
Asking your Customs broker about the program
Gathering your information to respond to the questions you'll be asked
Some of these questions include:
Your personal information:

Company Name, Contact Information, Legal Structure

Your merchandise/goods:

Valuation
HTS Numbers/Classification
Description
IPR
Bond Status
Right to Make Entry
ADD / CVD
Participating Government Agencies (PGAs)
And more
BKIP and other Trusted Trader programs are beneficial to importers because they provide information to CBP through ACE to possibly expedite your cargo, and minimize your risk to adverse Customs compliance.
"Better known than unknown!" ~ Amy Magnus, Director of Customs Affairs and Compliance