The first time you heard the word detention, was your first thought staying after school in the principal's office for skipping class? Mine too, but we're going to talk about a different type of detention and a few other things relating to the movement of your cargo.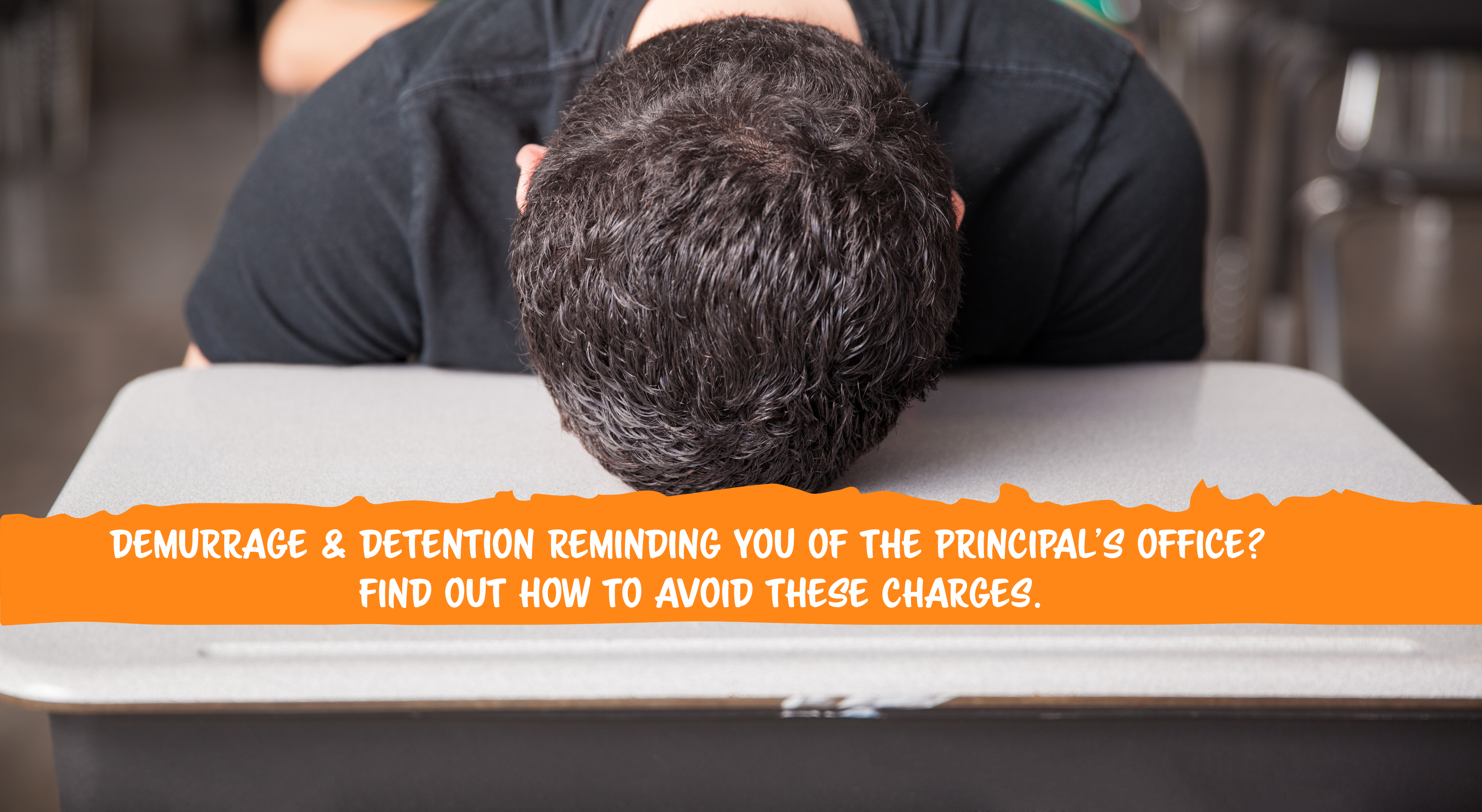 Free time, demurrage, and detention are shipping terms in regards to the turnaround of containers. We'll cover the difference between these costly charges and how to avoid them.
Ocean liners and marine terminals have sought various methods to manage congestion issues and speed the movement of freight
. One approach has been to allow free time for the use of the container, and then charging for time used over the allotted amount. Another is to allow cargo to dwell at port for a specified time before charging a fee.

Ports around the world handle free time, detention, and demurrage differently. For simplicity, this blog will only cover the handling of them at U.S. ports.
Free time at port
Did you know that shippers have a limited number of days to get their containers out of the port?
Shipping lines allow importers two to five days to take delivery of the container and move it out of the port or terminal area for unpacking
.
If you are unable to meet that time frame, then the carrier will begin charging a detention or demurrage fee
.
What's the difference between detention and demurrage?
Detention is a charge that an ocean carrier will impose on an importer for retaining containers longer than the agreed period. These might be bound for or held at a rail or feeder terminal, inland depot, or container yard.

Detention has two additional types, and OOCL provides us with these definitions and practices:
Merchant Haulage: when customers do their own trucking and have to return the container back to OOCL's care within the free period.
Carrier Haulage (Drop & Collect): container is left at the customer's own premises while they load or devan it, and OOCL's vehicle returns a different day to pull it out.
You may hear reference to "per-diem" (per day) charges, which is used interchangeably with detention.
Conversely, after free time concludes for the storage of your container at the port, demurrage charges will be assessed by the port, rail or feeder terminal, inland depot, or container yard.
For further clarification, detention charges relate to the use of the container and demurrage charges to the storage of the container.
The causes of detention and demurrage can vary
You can mitigate the shipping situations within your control, but not those out of your control. Focusing on where you can make adjustments will allow you to take steps to reduce the impact on your business. Causes for delays include:
Importers not having complete or correct information needed for Customs clearance
Incorrect, insufficient, or late documentation
Port congestion due to the unexpected surge of cargo, or labor issues at the port
Inspection of cargo by authorities or the importer
Arrival notice not provided timely
Financial matters of the consignee or importer of record
Received load was not correct
Extreme weather events
Chassis and trucking shortages
Avoiding detention and demurrage charges is possible with these tips
Planning and maximizing your allotted free time at the port can help you manage potential demurrage and detention charges
. Take some of these steps in streamlining your cargo transportation needs:
Negotiate your free time and schedule the devanning and transportation within that time
Submit shipping documents correctly, promptly, and ahead of time
Use your forwarders' shipping and cargo visibility tools to track shipments
See your product before shipping and verify what you ordered is what you will receive
Ensure you have the finances set aside to cover the costs associated with the shipment
Consider whether consolidation, LCL or FCL freight is a better fit
These charges can quickly mount and become very costly; therefore, preparing and reducing risk is your best option. In the meantime, the Federal Maritime Commission (FMC) is currently investigating to determine whether these fees are fair and just. The Coalition for Fair Port Practices filed a complaint to the FMC that indicates these charges are prohibitive regardless of provided free time. In particular, in situations when weather-related events occur or other port disruptions take place.
We'll keep you updated on the status of that investigation as we learn more about it.
Until then, peak season is upon us, and that means the likelihood of demurrage and detention fees will increase. Use the tips we included here to avoid costly delays.