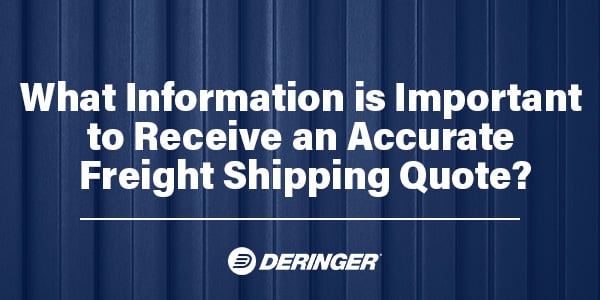 You can acquire shipping quotes for free. But they will mean little more than the paper they're printed on if you don't provide accurate—and necessary—details upfront.
Getting an accurate freight shipping quote is a critical step in international shipping. But to secure a good quote, you must give your freight forwarder exact information. Freight forwarders need to know:
Product size and weight
Product volumes
Hazmat requirements
Validity dates
Incoterms
A freight quote outlines the charges incurred when moving cargo from Point A to Point B. Shippers can lose money, cargo can get delayed, and Customs can issue fines and penalties when information on freight quotes is incomplete or inaccurate. Keep the following in mind as you prepare for your next shipment.
Accurate Freight Quote
It's critical to get accurate quotes the first time. When basing quotes on incorrect information, it isn't easy to compare prices across freight forwarders and carriers properly.
For instance, if shippers incorrectly report product size and weight, they may get hit with an extra charge upon pickup—or their items may not get picked up at all, leading to a cascading effect. When a carrier does not pick up cargo as scheduled, it can delay a load for several weeks.
Regulations can also ban truckers from carrying loads over a set weight. Transporters cannot move your goods across certain U.S. roads if they exceed that weight.
The only way to ensure goods arrive on time, within budget, and without unnecessary penalties and fees is to work from an accurate freight quote. Ensuring your quote includes essential information goes a long way toward preventing headaches later. This information includes:
Supplier location
Port of loading
Product destination
Cargo ready date
Point pairs
Know Your Product
Knowing the products you plan to ship might seem like an obvious piece of the puzzle, but lacking product specifics is one of the most common errors on shipping quotes.
Providing detailed information to your freight forwarder is essential. Special rules apply to shipments of lumber or raw wood versus wooden furniture, ingredients for foods versus canned goods, hazardous versus non-hazardous items, and so forth.
Cargo weight and volume are two key considerations, especially because accurate information about volume dimensions can save you money.
Knowing volume can also help the freight forwarder decide between Full Container Load (FCL) and Less than Container Load (LCL). With FCL, a shipper books a full container for their cargo. But with LCL, the shipper books part of a container because the size of their shipment doesn't warrant a full container.
It can be more economical to ship less time-sensitive and smaller shipments via LCL. But shipping LCL can come with higher terminal handling charges and documentation fees. You'll want to discuss the terms of LCL and lock down these expenses before entering a contract.
FCL works best for bulky, heavy cargo. But FCL rates are often more volatile than LCL rates. However, FCL delivery is faster because you must allow additional time to sort goods, consolidate documents, and process cargo with LCL.
Knowing if Customs classifies your shipment as hazardous can also prevent issues later. You don't want to secure a booking only to find out in port that the carrier won't accept your cargo.
Hazardous material regulations require the importer to properly classify, mark, and label packages to identify the hazard. Some dangerous goods, such as lithium batteries, aerosols, or flammable liquids, have exacting shipping requirements.
If carriers must handle a hazardous shipment with specialized equipment, you must provide this information for the shipping quote. If you do not mention the hazardous nature of your goods, you may accrue fees and penalties when transporters go to pick them up—if they pick them up at all.
Validity Dates
Validity date is the date through which a quote is valid. After that date passes, freight forwarders consider the quote expired.
The volatile shipping market has changed the nature of validity dates. Where carriers once gave validity dates that lasted months, they now put two-week validity dates on their quotes. The market has become so inconsistent that costs can swing dramatically during that time.
The best way to deal with tightened validity dates is to:
Adjust for the current market.
Reach out for a quote within two weeks of your shipment being ready.
Enter a contract with a validity date on the quote. If industry rates fluctuate, your quote stays the same.
If you secured a quote months in advance, get another quote when you get close to shipping.
Know Your Incoterms®
Incoterms® are international trade selling terms that the buyer and seller agree to and governments and legal authorities across the globe accept. Understanding Incoterms® is vital when trading internationally because the rules define who is responsible—buyer or seller—for specific tasks, costs, and risks.
Know which Incoterms® apply to your shipments and make sure the freight quote includes them before entering a contract. Here are some Incoterms® and definitions to help companies select how to import and export goods:
ExWorks (EXW)
Delivered Duty Paid (DDP)
Free on Board (FOB)
Free Carrier (FCA)
Delivered at Place (DAP)
FCA works well when buying and selling in the United States or Canada. Here, the seller packages the goods at their premises and then loads them in port. The buyer ships the goods, unloads them at their destination, and transports them to the buyer's warehouse or a third-party warehouse.
To ensure you list the right Incoterms® in your freight contract:
Know who pays for what, so you don't spend more than you should.
Make sure you agree with suppliers on the Incoterms® before you get a quote.
Establish excellent communication between you and your supplier.
Bad freight quotes can cost you money and time and lead to Customs fines and penalties. Reliable freight quotes result when shippers supply accurate product size and weight, product volumes, hazardous materials, validity dates, and Incoterms®.