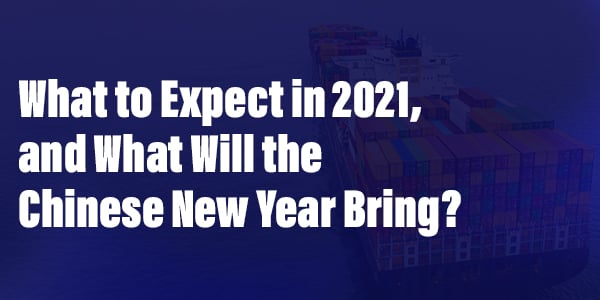 The start of every year also signals the onset of Chinese New Year, which—you may be surprised to know—always throws a wrench in supply chains across the globe. Now, you may be wondering: why exactly does this happen?
During this holiday, every factory in China shuts down so migrant workers can travel home to spend time with their families. While the official public holiday lasts seven days, most factories remain closed for two to four weeks—causing shipping delays for importers that fail to plan for the holiday. Orders placed in December may not arrive until March, so it's critical for shippers to forecast demand accurately and plan accordingly.
In 2021, the disruption presented by the Chinese New Year promises to be worse than ever. Here are five predicted impacts importers and exporters can expect to see in 2021.
Longer Lead Times
The ongoing pandemic will complicate shipping even more during the Chinese holiday. Before the pandemic, manufacturers traditionally booked two weeks out to guarantee space. Now, they must book three to four weeks in advance, a timeline that will inevitably extend when Chinese factories shut down.
Capacity Crunches Cause Higher Rates
Spikes in freight volume—an unusual phenomenon for December—also complicate matters by creating a capacity crunch at the beginning of the year. Any capacity crunch will lead to higher shipping rates and premium charges. Because of the pandemic, carriers now charge a premium on standard services shipping from Shang Hai to Los Angeles.
Ongoing port congestion has also driven up rates. FedEx already announced a 5% shipping rate increase for January 2021. Los Angeles carriers now charge a $350 surcharge per container. Shippers pay $4,000 to ship a container from China to Los Angeles and then pay an additional $350 to get the container out of the terminal.
Detention Terms Are Likely To Change
The container shortage will continue. Carriers began blank sailing to prevent the spread of COVID-19, which led to a shortage of containers at key ports. Carriers shortened the ten-day grace period for unloading and returning containers to solve this problem. But trucking shortfalls, port congestion, and equipment shortages often prevent companies from unloading containers on time.
And companies have paid for this. 2020 has brought more detention and demurrage fees than any year in recent history because companies have not been able to put containers back in service on time. They will pay even more in 2021—ports are so congested that there's no room to get containers out of port, unload them, and return them.
Contract Negotiations Will Be Different
With carriers operating at full capacity through Chinese New Year, shippers will negotiate rates when ships are full, and the capacity crunch will drive these rates up significantly.
Larger customers may opt to give cargo orders to NVO (Non-Vessel Operating) common carriers. NVOs buy space from containership operators at better rates and sell that space to shippers whose freight is less than a full container load (LCL), as well as offering competitive full container load rates.
Manufacturers may also shift cargo loads to freight forwarders or go direct-to-carrier to secure better rates.
Learn more about the differences between NVOCC's and Freight Agents.
What Will Happen to IMO?
When January 1, 2020, arrived, the shipping world was abuzz with the International Maritime Organization's (IMO's) new emission standards, which IMO designed to curb pollution produced by the world's ships.
IMO could ban shipping vessels using fuel with a sulfur content higher than 0.5% under the new rules, versus previous upper-limit levels of 3.5%. The most common marine fuel has a sulfur content of around 2.7%.
Carriers had to outfit their older vessels with scrubbers to meet the new standard. Scrubbers allow ships to purchase lower-cost, more readily-available fuels while complying with IMO sulfur regulations.
The headlines on new emissions standards and the costs to retrofit carriers' vessels were buried as concerns over COVID-19 ramped up. Today, no one talks about the new IMO standard or the rate hikes that shippers will institute to offset the upgrades.
Nevertheless, carriers raised rates as the pandemic raged on. Experts predict rates will fall by year's end, though not to the low levels seen in January and February 2020. It remains to be seen whether carriers will resurrect IMO concerns and raise rates in kind.
Overall, importers and exporters must proactively prepare for the changes ushered in by 2021 and the Chinese New Year. Those who do will navigate stormy seas with ease, and those who do not may face shipping delays, higher rates, and unprecedented detention fees.