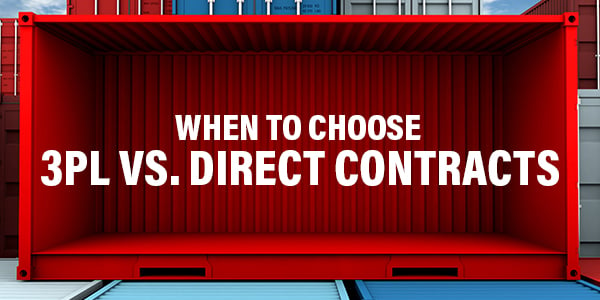 Surviving and competing in a post-COVID world requires radically transformed supply chains that are both agile and resilient.
Choosing a 3PL versus a carrier direct solution can build needed flexibility into supply chains. But it's important to know when using a 3PL makes sense—and when it doesn't.
The 3PL Advantage
A 3PL is not a freight forwarder.
Freight forwarders help move a company's products from Point A to Point B by arranging air, ocean, truck, or rail transport. These firms act as both a broker and intermediaries between shippers and carriers. They negotiate shipping contracts and serve as a single point of contact for everyone involved in a shipping decision.
3PLs are freight forwarders on steroids. These organizations manage supply chain tasks from end-to-end. For example, on top of auditing and optimizing a supply chain, they:
pick, pack, and fulfill orders,

control inventory,

coordinate shipments,

prepare Customs paperwork for imports and exports,

negotiate carrier contracts, and

adjust shipping routes during disruption.
A 3PL also acts as a consultant for a cargo owner to build supply chain networks locally, regionally, and globally—a necessary component of success in the field. And because 3PLs work with multiple steamship lines, there's always a carrier for your goods. The 3PL uses its network platform to scale the business up and down at no extra cost, other than the freight spend. If Maersk lacks room on its vessels, for instance, the 3PL partners with other carriers to move your volume.
Using a 3PL also lowers capital investment. Companies no longer need to maintain an in-house logistics staff to cover logistics services—moving to 3PL frees company staff to play on their strengths and focus on their core competencies. It costs money to hire a 3PL, but in the long run, this choice benefits businesses by enhancing efficiency, controlling costs, and boosting customer service.
When Carrier Direct Works Better
It is also possible to ship goods by working directly with carriers. In this case, cargo owners work with steamship lines to arrange transport, a method that works well for companies with in-house logistics staff.
Carrier direct also has some advantages with larger cargo volumes. For example, a company shipping a million containers annually might go carrier direct because committing to set volumes establishes a relationship with a carrier, leading to priority loading and reliable service.
Still, a company may want to run some volume through a 3PL or freight forwarder even when shipping carrier direct. Doing so may provide greater agility during disruption, a necessary component of successful logistics planning.
When choosing between carrier direct or 3PL, the question boils down to:
Do you need a partner or a vendor? Do you have the infrastructure and expertise to support your logistics needs or would a 3PL be a solid extension of your operation? If all that's needed is a carrier to ship goods, then carrier direct makes sense. However, if a company needs to expand its logistics capabilities, a 3PL is a better option.
How to Choose a 3PL
Companies use 3PLs to pick up skills or expertise they lack. They also seek 3PL partners during disruption. Problems arise when companies select the wrong 3PL partner for their needs.
When looking for a 3PL, make sure to consider:
Expertise in your industry: Specialized 3PLs build solutions around specific commodities. A 3PL with expertise in your industry understands its regulations, relationships, and inventory management issues. These firms know how to ship your goods with the correct equipment and at the correct temperature.

Technological capabilities: Choose a 3PL that employs modern technology through EDI or proprietary platforms that allow information sharing among stakeholders. Full transparency and real-time data sharing allow companies to track key performance indicators (KPIs) and see shipments in real-time.

Coverage in the right regions: Choose a 3PL with a foothold in the countries you ship to. Pick a 3PL that maintains local offices, warehouses, or partnerships near your major manufacturing hubs.

Flexible operations: Pick a 3PL that can scale logistics operations as demands ebb and flow, or as your company grows. A 3PL aligned with clients both smaller and larger than your business knows how to scale up or down as required.
Improve Forecast Accuracy
The COVID-19 pandemic tightened shipping capacity; put pressure on equipment availability; and increased port congestion, leading to extra costs and congestion surcharges.
Navigating this sea of uncertainty requires companies to fine-tune their forecasting capabilities. When forecasts are spot-on or within 90%, companies or their 3PLs can book vessel space with certainty and proactively adjust to a shipping crisis.
Accurate forecasting also reduces chargeback costs for cargo owners. Walmart, for example, encourages suppliers to meet shipping goals by imposing chargebacks. The chargebacks represent 3% the goods' value. If a delivery arrives early or late, the retailer tacks on a 3% fee on the total value of goods.
Choosing a freight forwarder, a 3PL, or going carrier direct will move goods from Point A to Point B. But to optimize a supply chain, you must select the right option for your specific situation and goods to ensure your cargo arrives cost-effectively and on time.