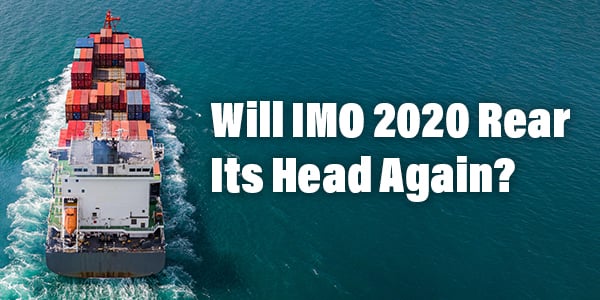 Heading into last year, new emission standards from the International Maritime Organization (IMO) set the industry abuzz with IMO 2020.
Carriers were suddenly required to retrofit ships or use more expensive fuel, and shippers worried they would have to bear the brunt of the costs. Concerns died down as COVID-19 appeared, but shippers worry they may finally see these charges in 2021.
What did the IMO standards do?
The new IMO requirements limit the acceptable standards of sulfur in ship fuel, reducing it from 3.5% to 0.5%. The standards require carriers to move from cheaper, dirtier crude oil to less polluting—but more expensive—fuels like marine gas, very-low sulfur fuel, or liquefied natural gas. Otherwise, carriers are required to invest in scrubber retrofits that clean engine exhaust.
Many carriers installed scrubbers at an estimated $4 million per vessel. The retrofit allows operators and crews to use the less expensive fuel they are familiar with on vessels.
Passing on the Charges
Most carriers planned to pass on the investment costs to shippers, but the pandemic pushed those intentions aside. Carriers didn't want to test the market at such an uncertain moment.
The pandemic also pushed carrier prices higher. In April 2019, shippers paid approximately $1,500 to move cargo in a 40' container from Shanghai to Los Angeles. Today, they pay $4,000 for the same move. As we head into Chinese New Year, those rates could rise to $6,000. With such high rates, carriers may get pushback on additional surcharges.
It's doubtful that IMO emission regulations will further increase shipping costs amid current market conditions. Though some carriers list bunker fees in their charges, most do not. All bets are off should the market soften later in 2021.
Will rates stabilize in 2021? Will shipping lines up prices for IMO 2020?
Rates will stabilize in 2021. The question is when.
As of today, shippers can expect full vessels, at least until March. Carriers will continue charging higher-than-normal rates until port congestion and backups let up, as they can get away with charging $2,000 or more just to keep cargo moving. They do not need bunker surcharges right now.
However, should rates fall to $1,500 for Shanghai to the West Coast, carriers may add general rate increases or other charges to offset their losses.
Rates may also increase because the IMO Marine Environment Protection Committee drafted new regulations to cut the carbon intensity of existing ships. Proposed amendments to the International Convention for the Prevention of Pollution from Ships (MARPOL) require ships to combine a technical and operational approach to reduce their carbon intensity.
The draft amendments require carriers to assess and measure energy efficiency on all vessels to reduce the carbon intensity of international shipping. IMO will vote on the proposed amendments at IMO's Marine Environment Protection Committee session (MEPC-76) later this year.
Carriers may eventually require their customers to pay more of the costs to comply with IMO 2020—either the scrubbers or the more expensive, very-lower sulfur fuel. It hasn't happened yet, and the crystal ball will be clearer once the market stabilizes.