Transportation costs are a big expense for companies, and this trend is only growing. Last year, a record $1.5 trillion was spent on the movement of goods. Companies are looking for creative strategies to get the best Return on Investment (ROI) on their shipments.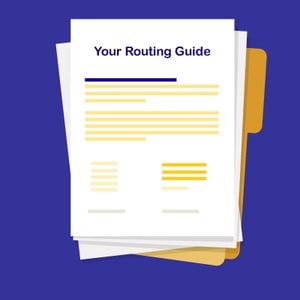 Routing guides can offer companies a way to save money on inbound shipments. While a big project, in the long run, routing guides could help companies avoid costly delays, communication and responsibility confusion, and ensure timely deliveries.
Eliminate Shipment Confusion
A thorough guide will assist in eliminating confusion between you and the carrier. Working with overseas suppliers often involves language and cultural differences that can easily and quickly turn a mutual agreement into a mess.
The more specific you can be in your guide, the easier it is for carriers to comply. Experts recommend using plain language that is easy to understand and clearly maps out your requirements. Many companies, including your carriers, vendors, and customers are familiar with routing guides and are typically willing to use them.
Creating an Inbound Routing Guide
Do you currently have an inbound routing guide in need of updating, or are you starting from scratch? Regardless, here are some tips to ensure your guide fulfills all of your needs.
Review the content and practices others in your industry use
Define your parameters with clear directions
Make a list of your current challenges

Early/late shipments
Cost of carrier selection
Mislabeling
Service capabilities
Shipment origination/destination

Include all origination and destination ports
Specify multimodal routings

Transportation information

Frequency
Mode of transport
Time frame

Assess Strengths and Weaknesses

Provide next steps for areas of weakness

Weight classification and volume

Adjusting shipment sizes
Freight classification and calculations
Shipment consolidation when necessary

Conduct frequent audits - best practice is at the time of tender

Create benchmarks for routing guide compliance
Audit shipper compliance to the routing guide

Include the policies and penalties for non-compliance
Where do Supplier Responsibilities Fit?
Suppliers should also be included in the routing guide. Often, suppliers will arrange transportation, and depending upon your Incoterms, are responsible for the shipment reaching your door compliantly. Like shippers, your suppliers should be able to easily apply and implement your guide when shipping on your behalf:
Thoroughly detail each instruction and include any special notes
Provide primary and secondary carriers options for each mode of transportation
Identify your shipment expectations

Ship/receipt days
Pick-up windows

Importing requirements

Bill of lading
Commercial invoice
EDI
Advance shipment notice
Labeling requirements

Shipment consolidations
Once your routing guide is complete, make it easily accessible for all users by posting it on your website. Online guides make it easier for you to change the requirements and share updates easily and will also ensure your partners have instant access to the most recent version of your guide.

Developing and using a routing guide will help clear up issues around shipping expectations, quality upon delivery, timeliness of delivery. It's important to review the document to make updates regularly. It is also recommended to perform audits of carrier and supplier compliance. Doing so will help ensure your shipments move as efficiently as possible as well as maintain good relationships with your key partners. Ultimately, the inbound routing guide will help safeguard against shipping issues, ensure import compliance, and eliminate confusion.