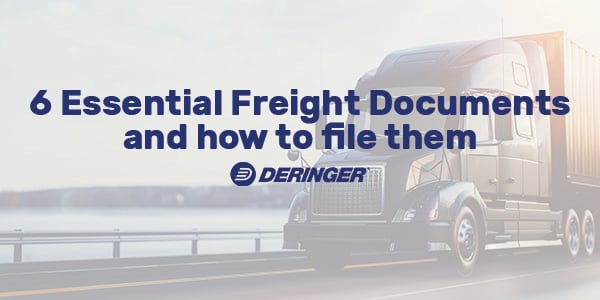 Shipping freight doesn't just involve getting goods from one place to another—it also requires paying close attention to a wide range of necessary documents. Being aware of these documents, knowing how they are used, and understanding the differences between them can help shippers avoid misunderstandings and transport issues.
Below are six standard freight documents companies must understand to move goods successfully from Point A to Point B.
The Most Common Freight Documents
Relevant documentation must accompany every shipment transported domestically or internationally. The required documents depend on whether a company plans to ship goods within the U.S. or to another country. The successful transport of goods hinges on knowing which documents a shipment requires before shipping.
Most shipments require companies to file some or all of the following documents:
Bill of Lading (BOL)
The industry considers this the most important document for goods transport. This legally binding document acts as a contract between shippers and freight carriers and is used as a receipt for transport services and goods shipped. A BOL signed by the carrier provides proof of carrier liability if a shipment gets lost or damaged. It lists shipment origin and destination; the weight, value, and description of each product in the shipment; and any special handling instructions. This document also serves as an official title for the goods.
Information required on the BOL can include:
Carrier name and signature
Date goods get picked up/loaded
Port of loading and port of destination
Terms and conditions of carriage
Description of goods, including value, count, weight, size, markings/numbers, etc.
Name of the consignee
Special shipping instructions
Freight Bill
A freight bill is like a bill of lading, but each document serves a distinct purpose. A freight bill's purpose is to outline total shipping charges and clarify BOL information. This document may include additional delivery information, such as limited access, liftgate, or threshold delivery, and handling information, such as refrigeration needs or protection from temperature extremes. A freight bill also outlines the costs for additional services and total fees to move the freight.
Information found on a freight bill can include:
Invoice number
Bill of Lading number
Transport type
Shipper and consignee information
Weight and quantity details
Value of each good
Total shipment value
Terms and conditions
Route details
Customs Invoice
Only those shipments crossing international borders need a Customs, or pro forma, invoice. Shippers summarize the contents of their shipment and declare the value of their goods in these mandatory documents. Later, Customs authorities examine these declarations to calculate duties and taxes. This is an important document to gain Customs clearance.
A Customs invoice can also function as a bill of sale with large volume shipments or estimate the cost of goods before shipping. Here, shippers issue a commercial invoice after goods get delivered, and parties agree on a purchase price for the goods.
Companies must provide Customs with accurate information on their Customs invoice to ensure quick clearance. These documents should include:
Place and time goods were sold
Name, address, contact information, and tax identification number of the seller and buyer
Name, address, contact information, and tax identification number of the party receiving the goods (if that party differs from the buyer)
Detailed description of the goods
Harmonized System numbers
Quantity and quality of goods
Price per unit and total shipment value
A signature, title of the signor, and date of signing
Proof of Delivery (POD)
A POD is a document signed by a consignee upon receipt of goods. Sometimes the POD is a standalone document. Other times it's included in the BOL or the freight bill. This essential document provides proof of successful delivery and acts as evidence in a claim. Transport professionals ask the signor to note visible loss or shipping damage before signing off. Shippers can ask for a copy at any time.
These documents detail:
Place and time goods were delivered
Signature, title of the signor, and date of signing
Detailed description of the goods
Harmonized System numbers
Quantity and quality of goods
Price per unit and total shipment value
Freight Claims Form
A freight claims form signals a demand from a shipper, consignee, or owner of the goods for monetary reimbursement when goods arrive damaged or get lost in transit. It is a necessary document to process a claim. Once a shipper files this document, it can take over 90 days to resolve a claim. Because a claim goes through many layers of review, shippers should file a freight claims form as early as possible.
Follow these steps to file a freight claim:
Provide requested documentation, such as the Bill of Lading, proof of delivery, and freight bill
Complete the carrier's claim form
Provide a repair quote to repair goods
Detail the salvage/scrap value to salvage goods
List total value if goods get lost
Submit the claim to the carrier's claims department
Weighing & Inspection Report (W&I)
Though encountered less frequently than other documents, the W&I is an important document verifying a shipment's freight characteristics accurately match the BOL's description.
If the shipment weight differs from the weight listed on the BOL, carriers can issue a W&I report noting the change. If a customer receives a freight bill with higher-than-quoted charges, it's often because of a weight discrepancy. Here, customers can request a copy of the W&I from the carrier to confirm they performed a valid reweigh.
How to File Essential Freight Documents
The processes for filing these documents can get complicated. The first step is determining which documents you need in advance and filling them out correctly before dispatching goods.
Before technology took over, shippers had to file paperwork manually. This required gathering signatures and other information, then printing or faxing the documents. Now, companies can supply an e-signature and store digital copies in a central database.
You can submit many documents electronically through the ACE secure data portal on the Customs website. The system requires first-time users to create an account prior to filing.
Some freight forwarders also provide easy-to-use platforms to file shipping documents and keep them organized. Organizing documents and ensuring they are readily available is as important as filing them correctly and on time.
Never Miss a Deadline With the Help of a Freight Forwarder
Successful transport hinges on these documents. It is vital to put the correct information into these documents and file them on time to avoid unnecessary shipping delays, charges, and fines.
With documents this important, it's wise to enlist the help of a freight forwarder. These professionals will help arrange shipping to secure the best rates and times while ensuring all documentation is in order.