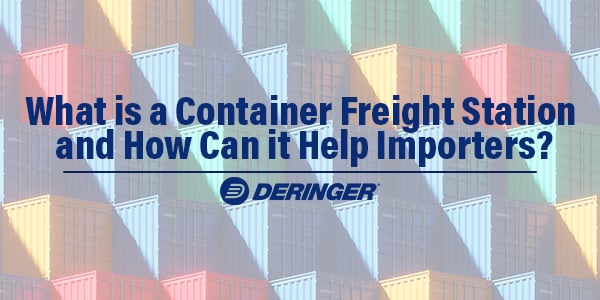 Approximately 17 million shipping containers are available, but just 6 million are in use at once. This means 11 million shipping containers sit unused across the globe at any given time.
But with limited storage spaces at container depots and yards—and in-house spaces overflowing with goods—where do all these containers go?
Every container, whether empty or full, must go somewhere. Plus, shippers may be liable if they store containers incorrectly or in the wrong place. Negligent storage opens shippers to:
Additional Customs documentation requirements
Delayed Customs clearance
Extensive damages
Lawsuits and expensive fines
Container freight stations (CFS) help shippers avoid these problems by acting as intermediaries that store containers as they wait to load or unload. In a chaotic shipping environment, shippers must understand what container freight stations are, their purpose, and locations.
What is a Container Freight Station?
A CFS is a distribution facility where carriers consolidate and deconsolidate import and export shipments. Companies can store goods at a CFS before loading and after unloading. The industry categorizes these stations as either "origin CFS" or "destination CFS."
Typically, shipping lines, terminals, or private parties own consolidation stations, with most facilities situated near major ports, terminals, inland container depots, major warehouses, and critical railway hubs. These stations function as temporary warehouses where cargo stays for a short time.
CFS works particularly well for less than container load (LCL) units. These are partially filled containers awaiting the loading or offloading of goods.
Let's say a shipper wants to send goods through a container but lacks enough product to fill the entire container. Here, the shipper would select LCL. The goods would get loaded onto a container at origin CFS, where they would sit until workers load all scheduled goods onto the container. The full container would ship to its destination port, then to a destination CFS. The station would hold the container until all goods were distributed back to clients.
In simple terms, the container goes through a consolidation phase at the origin CFS, then a deconsolidation phase at the destination CFS.
Key Benefits of Using a Container Freight Station
Shippers that use CFS stations can:
Consolidate LCL shipments with other freight destined for the same port.
Transload Interior Point Intermodal (IPI) freight from 20-, 40-, or 45-foot containers into 53-foot intermodal containers to save money and control inventory.
Access a foreign trade zone (FTZ) and non-FTZ. This feature allows shippers to keep their product in bond on Customs Form 7512 outside U.S. Customs' jurisdiction. This action allows shippers to defer duty and tax payments until the goods are used in manufacturing, or the shipper sells them.
Manage and clear freight efficiently.
Maintain a record of shipments, including exporter names, importer and Customs agents, origin and destination points, cargo details, and more
Deconsolidate freight to overnight ship what's needed and truck the rest to the destination.
Eliminate some Customs clearance processes.
Because CFS also functions as a port extension, the stations help decrease port congestion and simplify importing and exporting processes.
How the Process Works
CFS can streamline the import and export of shipments. But before going the CFS route, it's vital to understand how each process works.
Export Process
An exporter arrives at CFS with products and a shipping invoice.
Items get unloaded, and the CFS custodian verifies receipt.
Customs officials begin the Customs clearance process and provide a shipping bill with an "allow export" order.
CFS stuffs the goods into the container.
CFS seals the container, stamps it with an identifying label, and then sends it to the port/terminal for export.
Import Process
The importer files an import general manifest at the port, which details the cargo, exporter, and importer.
The container gets sent to the CFS.
Cargo gets offloaded, stacked, and destuffed at the CFS.
CFS delivers the shipment to the cargo clearing office.
The cargo owner submits a Bill of Lading, then the shipment clears, and duty payment is sent to Customs.
Customs delivers a Bill of Entry that states the cargo has an "out of charge" instruction.
The CFS sends cargo to the importer.
When to Use a CFS
CFS service represents an essential part of import and export logistics. Using a CFS facilitates intermodal transport and optimizes sending smaller shipments to their destinations with safety and tracking measures in place. A CFS makes sense with the congestion plaguing ports right now.
A CFS acts as an extended port. Importers can send containers directly to the CFS instead of sending them from the port itself—a true benefit when, once unloaded from ships, containers wait an average of 5.4 days for pickup.
CFS can work for almost any shipper. But CFS does not work as well when shipping full container load (FCL) or when a shipper's facilities sit near a port city. When shippers can take containers to their own facility, they don't need a CFS.
Shippers must plan on the front end and at the destination—warehouse space is scarce. Warehouses in and around U.S. ports are running out of room. In fact, warehouse vacancy has hit 3.6%, a record low, according to data from CBRE, an American commercial real estate services and investment firm.
At an origin CFS, companies must supply a list of different suppliers and how much volume they expect. They must also know their cargo-ready dates to secure a spot in the CFS.
Final Thoughts
CFS helps shippers avoid common shipping problems by acting as intermediaries that store containers as they wait to load or unload. But to use them successfully, shippers must understand what container freight stations are, how they can use them, and the benefits they offer.
CFS facilities at terminals, inland container depots, major warehouses, and critical railway hubs consolidate and deconsolidate goods efficiently, allowing shippers to bypass port congestion. But there's no panacea in today's rocky shipping climate. Shippers hoping to use CFS must plan and forecast well to secure a spot for their goods.
While shippers can secure their own CFS, freight forwarders are typically the largest users of CFS companies. A freight forwarder has the knowledge and connections to make using CFS a breeze.